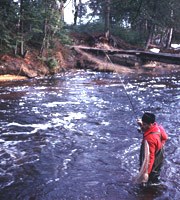 Hidden backcountry beaver ponds and brook trout ... a paddle stroke through loon waters and the hard tug of a smallmouth bass ... Lake Superior's open horizons of wind and surf and spawning steelhead.

The fishing opportunities are many, and the experience will draw you back.

Along with hunting, fishing is an activity specifically allowed by the Congress of the United States when it authorized Pictured Rocks National Lakeshore in 1966.