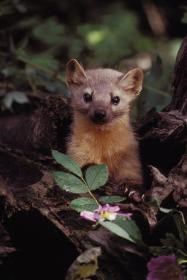 Though animal life is abundant within Pictured Rocks National Lakeshore, visitors do not usually see many animals during their visit beyond chipmunks and perching birds. A walk down park trails may reveal bear scat, a pile of pine cone bracts from a feeding red squirrel, or deer tracks in the mud. Keep an eye open for beaver-chewed tree stumps around a pond or a raven's nest high on a rocky ledge.

Wildlife in this varied landscape of wetland, sand dune, rocky shore, and northern forest includes white-tailed deer, black bear, gray wolves, and an occasional moose. Migratory and nesting songbirds share the park with bald eagle, osprey, and several species of hawks and falcons. Fisher, mink, American marten, beaver, skunk, red squirrel, and numerous small rodents such as shrews and mice inhabit lakeshore habitats. Butterflies, dragonflies, and other insects abound during the summer. Many species of fish, as well as aquatic organisms such as freshwater mussels and tiny crustaceans, live in the park's lakes and streams.

The national lakeshore contains nearly 300 native vertebrates, with 48 fish, 12 amphibian, 5 reptile, 182 bird and 42 mammal species currently identified. One Federally listed endangered species, the piping plover, has habitat within park boundaries. Several Michigan state-listed species are also protected within the lakeshore.