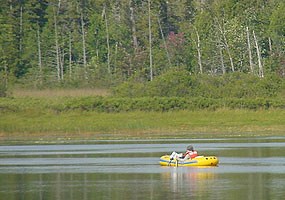 In addition to insects and their relatives, many other forms of invertebrates live within Pictured Rocks National Lakeshore in both forest soils and aquatic ecosystems. Some of the most important and abundant are numerous species of zooplankton, tiny animals that form the base of many aquatic food chains. These include large numbers of minute crustaceans such as copepods, amphipods, and native water fleas.

Zooplankton communities vary among lakes, and also vary by season and depth within the same lake. To date 35 taxa of cladocerans, 11 species of calanoid and cyclopoid copepods, and 2 genera of rotifers have been identified from eight lakes in Pictured Rocks National Lakeshore. The park monitors zooplankton levels as indicators of ecosystem health and to help detect changes in aquatic environments.

Studies of the benthic (bottom) communities of inland lakes have found species of leeches, aquatic earthworms, scuds, sea shrimp, water bears, moss animals, and aquatic sow bugs. Larger invertebrates include several species of freshwater mussels, clams, snails, and limpets. Freshwater sponges and hydra (relatives of jellyfish) are not uncommon. Native crayfish are the only large crustaceans found within the park. Non-native rusty crayfish, popular as bait among fishermen, have not yet been found here but are of concern as they are an aggressive invasive species that can displace native crayfish and destroy aquatic plant beds.