Fees & Passes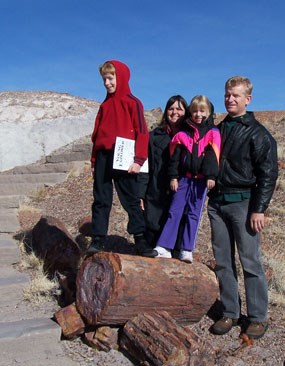 Entrance Fees
Auto/7-day pass to PEFO $25.00
Bike/per person $15.00 (per person)
Motorcycle $20.00 (flat fee)
PEFO Annual Pass $45.00
Subject to change.
January 18: Birthday of Martin Luther King, Jr.
April 17: First day of National Park Week
August 4: One year anniversary of the Great American Outdoors Act
August 25: National Park Service Birthday
September 25: National Public Lands Day
November 11: Veterans Day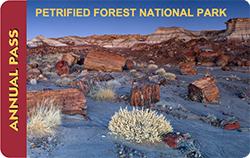 Petrified Forest National Park Annual Pass: $45.00
Subject to change.
We also accept all the America the Beautiful Passes
A pass is your ticket to more than 2,000 federal recreation sites. Each pass covers entrance fees at national parks and national wildlife refuges as well as standard amenity fees (day use fees) at national forests and grasslands, and at lands managed by the Bureau of Land Management, Bureau of Reclamation and U.S. Army Corps of Engineers. A pass covers entrance, standard amenity fees and day use fees for a driver and all passengers in a personal vehicle at per vehicle fee areas (or up to four adults at sites that charge per person). Children age 15 or under are admitted free. More information: National Parks and Federal Recreational Lands Pass program

Did you know that U.S. fourth graders can get a free pass to the national parks? The pass allows the kids and family members free access to over 2,000 federal lands and waters so you can discover our wildlife, resources, and history. To obtain a pass, fourth grade students can visit the bilingual Every Kid Outdoors website, participate in a short, fun educational activity, and then download a paper voucher to print and bring with them to visit public lands and waters across the country. Every Kid Outdoors begins each year on September 1 and goes through August 31. Visit Every Kid Outdoors and get your free fourth grade pass today!
Commercial Fees
If you are conducting an income generating tour of the park, you are subject to commercial tour fees. The fee amount varies by vehicle size:
Large tour bus with capacity of 26 or more: $150 (for 7 days)
Small bus with capacity of 16-25: $60 (for 7 days)
Van with capacity of 7-15: $50 (for 7 days)
Passenger vehicle with capacity of 1-6: $25-$50 (for 7 days) depending on occupancy.
A commercial tour consists of one or more persons traveling on an itinerary that has been packaged, priced, or sold for leisure/recreational purposes by an organization that realizes financial gain through the provision of the service. Falling within this definition are tours which require the use of a vehicle: bus, van, or sedan as the primary means of transport during the road-based tour. The tour operator is using National Park Service roads as the primary means of accomplishing the tour.
WARNING. Removal of petrified wood or any natural or cultural object is strictly prohibited and punishable by federal law. Make sure all passengers are aware of park regulations and that they follow resource protection and safety guidelines. The tour guides may be held responsible for the actions of their clients.
Noncommercial Fees
Organized, noncommercial groups are charged $10/person. Excluded from the per person charge are a driver, a guide, anyone 15 years and under, and passengers who have any of the above mentioned federal passes.
---
Last updated: August 26, 2021