Science and Research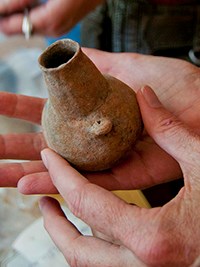 Archeology
From the Desk of an Archeologist
Humans have been living and working in the Painted Desert for the last 13,000 years. Petrified Forest National Park protects hundreds of significant archeological sites. The record of human occupation ranges from small single-room field houses to villages where hundreds of people lived. Phenomenal rock art sites are scattered throughout the park. Ongoing archeological research by park archeologists and partners is aimed at developing a better understanding of how people hunted, farmed, and lived in this seemingly harsh environment. By studying these sites and the artifacts they contain—like pottery and stone and bone tools—archeologists can get a picture of the past lives of the inhabitants of Petrified Forest. The ongoing expansion of the park has added almost unlimited research potential to help answer these questions. A continuing research effort is underway to locate, study, and interpret the archeological history of newly added portions of Petrified Forest National Park. Research over the last three years has found hundreds of new archaeological and historic sites and dozens of new and exciting rock art sites.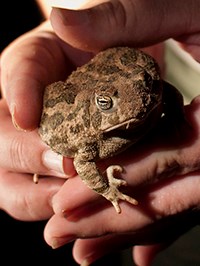 Ecology
From the Desk of a Biologist
The high quality grassland, riparian, and badlands habitats in the park support a large variety of plants and animals. Most of the animals are very secretive, but hopefully you'll get to see a large mammal grazing, a tenacious desert plant, or maybe a reptile, bird, or interesting insect that calls the park home. If you have a plant or animal sighting that you want to share with us, take a photo and consider submitting an iNaturalist observation (create an account at www.inaturalist.org). The park's biologists can't be everywhere—we'd love to know what you're seeing!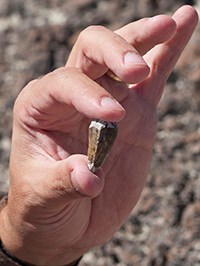 Paleontology
From the Desk of a Paleontologist
Petrified Forest National Park is a world class scientific laboratory for study of fossils from the later part of the Triassic Period (about 227-205 million years ago). The fossil record at the park preserves everything from fossil pollen and spores to some of the earliest dinosaurs, and allows for reconstruction of several ancient environments through time. The recent addition of more than 40,000 acres to the park has resulted in the discovery of many more fossiliferous layers including a new locality where the bones of numerous fish, giant amphibians, and reptiles reflect life in an ancient lake setting. Ongoing paleontological and geological research, both through park staff and our academic partners, is reconstructing the history of life during this period at a degree of detail never before attempted, including determination of climate change (temperature and precipitation rates) and its effects on biotic (animal and plant) extinctions.
---
For anyone interested in the science going on in parks across the Southwest, we urge you to visit the Learning Center for the American Southwest. The Learning Center of the American Southwest (LCAS) is a partnership dedicated to understanding and preserving the unique resources of the American Southwest through science and education. This website delivers information about the natural and cultural resources of the region and about scientific activities underway. Petrified Forest National Park is a member of this partnership.
Last updated: August 10, 2019