Museum Demonstration Lab
Visitors Welcome!
Open Wednesday - Sunday
9 am - 3 pm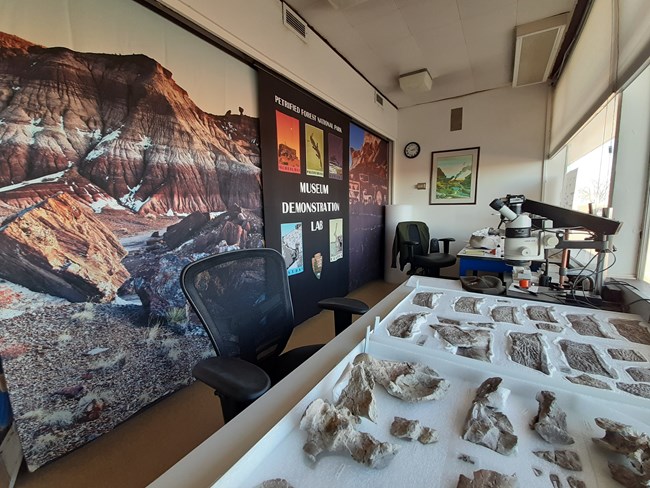 The Museum Demonstration Lab at the Painted Desert Visitor Center is where you can see one-of-a-kind fossils from Petrified Forest National Park being prepared by trained paleontologists! Peek through the window to see fossils from the museum collection. Watch a live microscope feed on the TV as paleontologists remove rock from fossil bone. Chat with scientists via a two-way, hands-free speaker.

Demo Lab will be closed the following days
Friday November 11 Veterans Day
Thursday November 24 Thanksgiving Day
Sunday December 25 Christmas Day
Learn and Explore
Dig Deeper
Paleontologists at Petrified Forest actively work with outside researchers to reconstruct a detailed history of life during the Late Triassic, and exciting new research has resulted in multiple published research articles in just the last few years. The Museum Demonstration Lab has been THE primary place for park staff to share these scientific discoveries with visitors, often showcasing the fossils themselves before they go on exhibit or into collections. The diversity and exceptionality of fossils in the Museum Demonstration Lab and direct interaction with paleontologists is what makes it a must see for visitors coming to Petrified Forest.

Learn more about an exciting new microvertebrate locality we've been researching!
Last updated: July 22, 2022