National Park Service History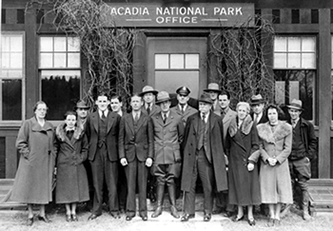 Early park rangers and supporters of
Acadia National Park, Maine.  Date unknown.
Today, roughly 60% of the 417 park areas administered by the National Park Service have been set aside as symbols and evidence of our history and prehistory. Many of our natural parks contain historic places that represent important aspects of that history. Collectively, these places present an American history textbook, a textbook that educates us about the people, events, buildings, objects, landscapes, and artifacts of the American past and about the aspirations and actions that produced those tangible survivors. The National Park Service's history web site represents varying aspects of this history. It emphasizes the educational value of historic places and the importance of the stories that connect us to them. Our goal is to offer a window into the historical richness of the National Park System and the opportunities it presents for understanding who we are, where we have been, and how we as a society, might approach the future. This collection of special places also allows us to examine our past—the contested along with the comfortable, the complex along with the simple, the controversial along with the inspirational. We hope, in addition, that these pages will contribute to a national discussion of history and its importance to contemporary society.