Date: August 3, 2015
Contact: Investigative Services Branch, (202) 379-4761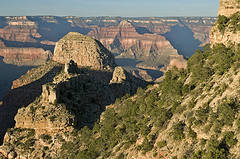 Search crews find missing man at Grand Canyon
ISB Special Agents provided critical support in the search for a missing man that began on July 31 in Grand Canyon National Park. Search crews found the man within about 48 hours in a remote area west of Grand Canyon Village.
The missing man was reunited with family members in the village, then transported to the nearby town of Flagstaff, Arizona for further evaluation.
The successful outcome of the search was the result of a remarkable collaborative effort between the National Park Service Investigative Services Branch, Grand Canyon Fire and Aviation Team, and Grand Canyon Search and Rescue Team.
Other agencies also joined the search for the missing man, including Arizona Department of Public Safety Air Rescue, Coconino County Sheriff's Department, and Kaibab National Forest.
ISB is on the web at www.nps.gov/isb 
Home | What We Do | News | Tip Line | Jobs | Internships and Details | Contact Us