Date: August 3, 2015
Contact: Investigative Services Branch, (202) 379-4761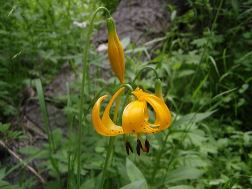 Thanks to a solid investigation by an ISB Special Agent, a federal judge sentenced a man to two years in prison for cultivating marijuana within Sequoia National Park. The sentence was handed down in early August to Toribio Cruz-Galvan, who pleaded guilty to conspiring to manufacture and distribute marijuana, as well as possession with intent to distribute marijuana.
Investigators linked Cruz-Galvan to the operation by fingerprint and other evidence found at the site, and they intercepted his supply vehicle shortly before finding the site. Cruz-Galvan, an undocumented Mexican national, was indicted by a federal grand jury in October of 2014.
Cruz-Galvan's illegal operation caused great harm to the national park as well as the wildlife and vegetation therein. He cultivated more than a thousand marijuana plants near Yucca Mountain, and in doing so brought in fertilizer, poison, fuel, and diverted more than a million gallons of water from a nearby spring. He also stocked firearms, ammunition, processed marijuana, and hundreds of pounds of trash at the grow site. If you see something suspicious in a National Park System site, stay safe and tell us about it by calling our toll-free Tip Line: 888-653-0009. You don't have to tell us who you are, but please tell us what you know.
ISB is on the web atwww.nps.gov/isb 
Home|What We Do|News|Tip Line|Jobs|Internships and Details|Contact Us