Date: October 8, 2015
Contact: Investigative Services Branch, (202) 379-4761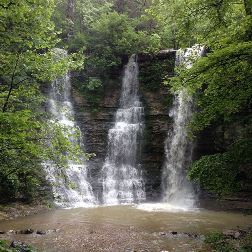 Man caught and jailed for breaking into vehicles at Buffalo National River
An Arkansas man has recently been sentenced to federal prison and ordered to pay restitution for a series of vehicle break-ins he committed in Buffalo National River. An ISB Special Agent led the 6-month investigation that began in late 2012; it tied Joshua Wayne Blanton to numerous thefts inside the park as well as the surrounding area.
Investigators found that Blanton had worked with at least five other people to commit theft of firearms and personal property, credit card fraud, and laundering of credit and banking instruments. Investigators served four search warrants and made five arrests.
Blanton was charged and convicted under state law for the property thefts committed outside of the park, and was indicted by a federal grand jury on charges for break-ins within the park. He pleaded guilty to two counts of breaking and entering within Buffalo National River and will serve his federal prison sentence consecutively with the 12-year state prison sentence. He will then serve three years of supervised probation, and was ordered to pay approximately $7,900 in restitution to the victims of his crimes.
The Investigative Services Branch and the National Park Service wish to thank the Arkansas sheriff's offices of Newton, Boone, and Marion counties, as well as the Flippin Police Department, for their assistance with this investigation.
If you see suspicious activity in a National Park Service site, stay safe and call our toll-free Tip Line at 888-653-0009. You don't have to tell us who you are, but please tell us what you know.
ISB is on the web at www.nps.gov/isb 
Home | What We Do | News | Tip Line | Jobs | Internships and Details | Contact Us