Date: August 24, 2015
Contact: Investigative Services Branch, (202) 379-4761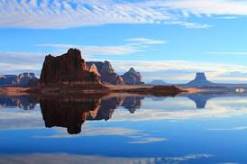 Assaulting a US Park Ranger lands two women in jail
Two women were sentenced in August after they both pleaded guilty to Assault on a Federal Law Enforcement Officer. Charges were successfully brought against the women with the help of an ISB Special Agent.
The charges stemmed from an incident at Glen Canyon National Recreation Area that happened on June 28 near Antelope Point. US Park Rangers responded to a report that the women appeared to be intoxicated, and one was having trouble in the water.
Rangers arrived on scene to find that Mary Ann Gray was swimming dangerously close to the main channel of Lake Powell off the shore of Antelope Point. They immediately initiated a water rescue for the distressed swimmer.
Upon reaching safety, Gray became combative with her rescuers. She hit, pushed and kicked at them while yelling profane and racially-motivated remarks. As the rangers took her into custody, Gray bit the ranger who had pulled her out of the water to safety.
Gray's companion, Ryann Shelly Holmes, interfered with the rangers as they were dealing with Gray, also hitting and pushing them.
In separate court appearances, both women pleaded guilty to one Class A Misdemeanor count of assaulting/resisting a Federal Law Enforcement Officer during the commission of their duty. Gray also pleaded guilty to one Class B Misdemeanor charge of being Under the Influence of Alcohol to the point of being a danger to herself and others.
Gray will serve 30 days in jail, and Holmes will serve 10 days in jail. Both will then serve one year of supervised release, and are banned from Glen Canyon during that time.
ISB is on the web at www.nps.gov/isb 
What We Do | Tip Line | News | Jobs | Internships and Details | Contact Us