Date: July 31, 2015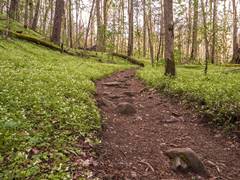 An ISB Special Agent helped find out what went wrong for a hiker in the Smokies
The search for a missing hiker in Great Smoky Mountains National Park in early June was supported by a Special Agent with the Investigative Services Branch.
Though the hiker was not found alive, her body was within the area investigators presumed she would be. The trail stretches just over 9 miles in length and is considered strenuous. It is known for its wildflowers and for the historic barn and cabin along the route.
Susan J. Bennett was an experienced hiker who often explored off trail. Investigators were able to quickly rule out any sort of animal attack, but the cause of her death were pending the results of the autopsy.
The report concluded that Bennett died of environmental hypothermia due to cold exposure from partial submersion in Porter's Creek. Though she also had some bruising that indicated a fall, she did not suffer any internal or musculoskeletal trauma. The report also found that Bennett had a toxic level of a drug found in a common allergy medication.
Rangers recommend always letting someone else know where you'll be hiking, and properly preparing for any off-trail ventures. Remain in one place if you lose your way.
ISB is on the web at www.nps.gov/isb 
Home | What We Do | News | Tip Line | Jobs | Internships and Details | Contact Us