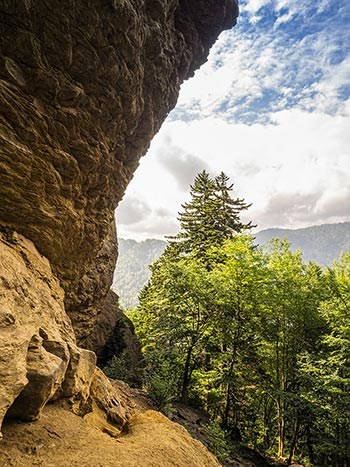 Starting on May 2, 2016, Alum Cave Trail and associated parking area will be closed to all visitor use, Monday through Thursday, for trail reconstruction. During the closure, overnight hikers to Mt. Le Conte should plan to access the peak by one of the five alternate routes including Boulevard, Rainbow Falls, Trillium Gap, Bull Head, and Brushy Mountain trails. Parking is limited, especially at Rainbow Falls/Bull Head and Trillium Gap trailheads. Hikers are encouraged to carpool and arrive at trailheads by 9:00 a.m. for the best chance to find parking. Mt. LeConte Lodge will remain open during the construction process.
Why does Alum Cave Trail need to be restored?
This trail is one of the park's most popular trails, leading to iconic areas including Arch Rock, Inspiration Point, Alum Cave Bluffs, and Mt. Le Conte. Rangers respond to numerous accidents on the trail each year, especially on the narrow upper section. There are several narrow areas where erosion and landslides have damaged sections of the trail, making it difficult to safely travel through the areas during inclement weather or to pass hikers coming from the opposite direction. By restoring these fragile trail sections, the park can best ensure long-term sustainability and safety.
What type of improvements will the crew make?
The Trails Forever crew will focus restoration efforts on several targeted locations along the 5-mile trail to improve visitor safety and stabilize eroding trail sections. Crews plan to improve the overall trail safety by repairing historic cable and handrail systems, reinforcing hanging trail sections, and improving drainage to prevent further erosion.

When will the trail be closed?
Alum Cave Trail will be closed May 2 through November 17 in 2016, excluding federal holidays, on Monday mornings at 7:00 a.m. through Thursday evenings at 5:30 p.m. weekly.
Will the Mount LeConte Shelter be open?
The backcountry shelter will be closed Monday-Thursday from May 2 through October 13, 2016 to accomodate a youth conservation crew that will assisting with the trail restoration project. After October 14, hikers with backcountry permits for the shelter are advised to plan their route to and from the shelter with the trail closure in mind.
Will the Mount LeConte Lodge be open?
Yes! LeConte Lodge will continue to operate following their normal operating schedule. In 2016, the lodge is open March 21 through November 21. For more information on how to make overnight reservations, please visit www.lecontelodge.com.
Why can't hikers pass thorugh the construction zone on the trail?
Due to the construction process on the narrow trail, a full closure is necessary, Monday through Thursday each week, during the project for the safety of both the crew and visitors.