Terminus: A Glacier Memorial Project

What is Terminus?
Terminus is an artistic elegy, a river you could skate away on, a love poem to a changing planet.

(It's also an interactive map.)

Between 1982 and 2009, the number of glaciers in the Olympic Mountains shrank from 266 to 184. We know that number will dwindle further as the climate continues to change. The goal of the Terminus project is to immortalize glaciers of the Olympic Mountains through art. Each selected artist has created an original work as a tribute to their assigned glacier. As these glaciers melt away, the works of art will live on as a reminder that they were meaningful, and are still meaningful.

These are the original creations of the artists, and any views expressed are their own.

Storymap

Terminus Art
Painting

Black Glacier by Klara Maisch

"This project was an exercise in thinking backwards in time while contributing to a future archive."

Drawing

Mount Stone Glacier by Gisele Olson

"It uses charcoal collected from a recent burn in the Pacific Northwest to underscore the connections...between glaciers and wildfire."

watercolor and naturalist notes

Deception Glacier by Heather Murphy

"Breathing in deep fresh air, which you could almost taste, made me feel these mountains and their beings most strongly."

watercolor triptych

Lillian Glacier by Claire Giordano

"...a glacier lost in all-too-human time and connected to a possible future of resistance and hope."

Dance

Elwha Snow Finger by Kristin McArdle

"The glacier body is the heartbeat of the river, flowing north to meet the ocean."

Comic

Mount Steel Glacier by Maddi Bacon

"We know we're just going to measure the glaciers until they disappear, but we tell that story, and it keeps people thinking about it."

Film

Hubert Glacier by Jeremy Hunter Rubingh

"...the Olympic Mountains constantly keep us company to the west. They are our lives' backdrops, as constant as the tides..."

Charcoal on Birch Bark

Hal Foss Glacier by Nathaniel Anderson

"These glaciers are the last bits of an ancient memory..."

Felted Wool

Ice River Glacier by Sherilyn Seyler

"My hope is that the piece will also inspire others to want to know more about glaciers and do whatever we can to prolong their existence."

Poetry

Blue Glacier by Maria Seda-Reeder

"...What struck me the most about my time in the park was how much everything in the forests were both alive and decaying simultaneously..."

Painting

Blue Glacier by Claire Sianna Seaman

"... I hope this artwork will serve to help us remember our glaciers, and that we may live in a way that does their memory justice."

Weaving

Eel Glacier by Kim Mirus

"This piece, handwoven in cotton and wool, illustrates the rocks and tarn unveiled as Eel Glacier retreated and melted over 51 years."

Watercolor

Anderson Glacier by Khuyen Lam

"I chose the emphasize the glacier melt that advance towards the viewer, forewarning of the future that is to come..."

Collage

White Glacier by Cal Waichler

"Collaged, these sinuous ribbons weave together potential futures for the moraines of the White Glacier..."

Topographical Model and Map

University Glacier by Erin Ziter

"Seduced by mountain topography, I strive to portray a mountain's grandness and character in my work..."

Stained Glass

Jeffers Glacier by Mia Wyatt

"...All of the glass was mouth blown in Seattle at Fremont Antique Glass..."

Greenwood Carving

White Mountain Glacier by Kaylyn Messer

"In life, we can find meaning and deepen understanding through conversation, nourishment of the body and soul..."

Painting

Christie Glacier by Roxanne Everett

"The glacier has contour-like lines that designate where the glacier was or is receding..."

Watercolor

Duckabush Glacier by Dennis Pollard

"My opportunities started early when my father carried me into Humes Ranch on his back—I was 3 and the year was 1950..."

Found object

Mount Skokomish Glacier by Hope Black

"...The middle peak is 'holding' the glacier with care and is upside down as a symbol of the despair of the loss of our glaciers..."

Poetry

Carrie Glacier by Catherine Ruth

"...this is less an elegy / than a single thread / in a tapestry of gray and green..."

Cyanotype photography

Surprise Glacier by Andrea Gaffney

"I wasn't expecting to crawl over talus for two miles, only to find the melting, disjointed remnants of a glacier. Surprise, indeed..."

Music

Constance Glacier by Taylor Johnson

"Patience is a virtue when there's no future to lose..."

Acrylic on bigleaf maple

Humes Glacier by Natalie Rotramel

Shifting Baseline Syndrome

Moss Wall

Akela Glacier by Kate Shooltz

"A rock glacier is a flowing body of rocks that move down a mountain due to interstitial ice."

Poetry

Cameron Glaciers by Kevin Craft

Cantata for a Melting

Charcoal

Elkhorn Glacier by Amory Abbott

"...We are losing our collective memory with our physical relationship to the land..."

Art Quilt

Hanging Glacier by Diane Williams

"Can a color become endangered?"

Poetry

Linsley's Glacier by Kim Weaver

"When you are gone, what will be etched into the Earth to mark your passing?"

Embroidery

Geri-Freki Glacier by Kait Evensen

A fleeting moment captured

Poetry

Bear Pass Glacier by Bénédicte Kusendila

Bear Pass Glacier Renga

Painting

Mystery Glacier by Brian Hackworth

Spring Storm Clearing Over Mystery Glacier

Animation

Ferry Glacier by Bailey Thomas

"Although it is no longer a mass of ice coexisting with mastodons, it's left its mark and the water remains."

Music

Eel Glacier by Thomas Peters

Requiem for a Glacier

Essay

Fairchild Glacier by Hannah Geise

Bearing Witness to a Changing Landscape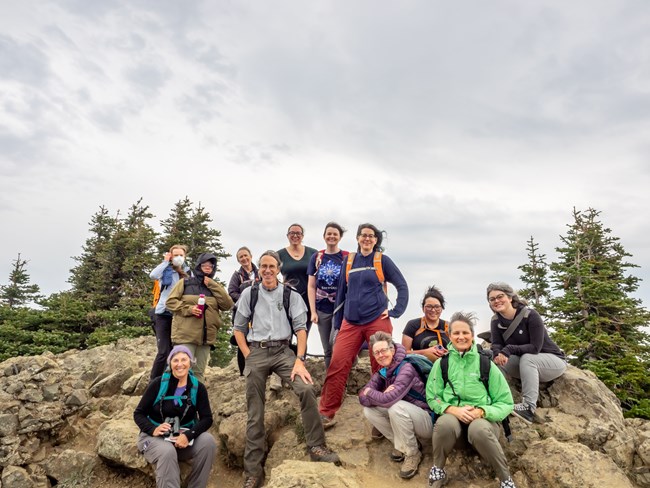 Terminus Events Summer 2023
We spent summer celebrating and mourning our glaciers through art, conversation, and community. At
Port Angeles Fine Arts Center
, the art was on exhibit through the summer. In August,
thirteen of the Terminus artists joined us in the park, presenting short popup programs for park visitors and members of our local communities. The artists went hiking with scientist Bill Baccus, who had helped many of them know the stories and science behind the glaciers they were memorialzing.

Scientist
Dr. Andrew Fountain presented his research on the glaciers of the Olympic Peninsula, which are projected to vanish by 2070 at the North Olympic Library Systems - Port Angeles Main Library.
New PSU research predicts the disappearance of Olympic Peninsula glaciers | Portland State University (pdx.edu)

Frequently Asked Questions
Is this an admission of defeat? Why aren't you trying to stop the glaciers from vanishing?
Short answer: It's more of an admonishment/warning/plea to us all to do just that.
Long answer: Fully stopping climate change and glacial melt is simply beyond the power of the National Park Service alone. While many national parks have taken what steps they can to reduce carbon emissions, the climate has no regard for park boundaries and these actions will be most effective combined with many, many others, large and small, worldwide.
NPS scientists have been conducting long-term monitoring of natural "vital signs" such as glaciers for many years. We share this data on the specific, measurable effects of climate change with those who do have the power to make legislative and policy decisions. Washington's National Park Fund supports this work.
The National Park Service also educates the public about the effects of climate change, which is where this project took root. Because dozens of Olympic glaciers have already melted, and more are likely to do so, we wanted to create an honest space to grieve that reality, and to hold the message that these glaciers mattered, and still matter.
Ecology can feel theoretical to many of us if our day-to-day lives seem somewhat removed from nature. That's where art comes in – it can create a sense of immediacy, of personal connection. Terminus is a digital space where all are welcome to join in this important conversation, to co-create along with us and celebrate the natural world we cherish.


The application period has closed - can I still be an Artist-in-Residence at another national park?
Yes! Parks all over the country have artist residency programs, see a complete list here.


No, I have my heart set on being an artist for Olympic. Will you ever have another artist residency program?

Yes. We plan to launch our next park artist program in fall of 2023.


I don't want to make art right now, but I do want to do something about climate change. Where do I start?

Simply put, you start right where you are. That can mean making changes to how you eat, travel, and keep your home, or having important conversations, coming together with others, and being an active citizen. Here is a wonderful list of ideas to get you started!

Visit Washington National Park's Fund to learn how you can support Olympic National Park volunteer programs like this one!

Last updated: September 28, 2023