Terminus: Elwha Snow Finger by Kristin McArdle

"Glacier Body - Elwha Snow Finger is a dance elegy. Using dance, video, and music, I celebrate the contemporary power of the Elwha Snow Finger glacier by focusing attention on the river this glacier creates—the Elwha. We see the glacier in the silted green of the water, the enormity of the trees, the flowers peaking through the soil, and the all-encompassing moss along the Elwha's riverbanks. We hear the glacier in the rapids and in the soft tranquil bubbles that surface as the river slows and meanders, where birdsong breaks through the humming vibration. This glacier is difficult to get to, but we feel its body expressing itself everywhere. The glacier body is the heartbeat of the river, flowing north to meet the ocean.

"We are but a shadow upon this mighty river. We come to visit. Take memories from a window. We place tiny steps along its path. We believe that our pedestrian movement can't possibly affect this amazing place from afar. We merely pass it on our way to progress.

"Summertime greets us. Always ready for us to bathe in its warmth. A celebration! Upstream, our unassuming shadow overtakes the ice with an elegant hand full of heat. Radioactive. Time passes. We keep moving. We try to understand, protect, even caress a fragile place as fierce as the Elwha. The river keeps flowing, knowing it is changing, narrowing, depending, like we are, on the glacier that slowly nurtures the river, and us too. The glacier body is retreating. May our future tread lightly.

"Elwha Be Free" -Kristin McArdle

Meet the artist: Kristin McArdle
"I choreograph, produce, and present contemporary dance performances and films that are inspired by nature and examine our complex relationship to it and to each other. I intend to forge an emotional connection to places—those near and dear to us, like distance glaciers and coral reefs—that are integral to our health and the planet's health.

"I founded Kristin McArdle Dance in 2003. I have presented my environmental activist choreography at unusual venues for dance such as aquariums, conservation biology meetings, and the UN Climate Change Conference. Artistically, I have collaborated with photographers, singers, programmers, and scientists like marine biologist Dr. Sylvia Earle.

"I am thrilled to have the opportunity to create a dance film for Terminus: A Glacier Memorial Project. What a fantastic project for Olympic National Park and us! It has been a transformative experience and such wonderful way to engage so many artistic disciplines and the public." -Kristin McArdle

See more of Kristin's work at her website here, and on Instagram here.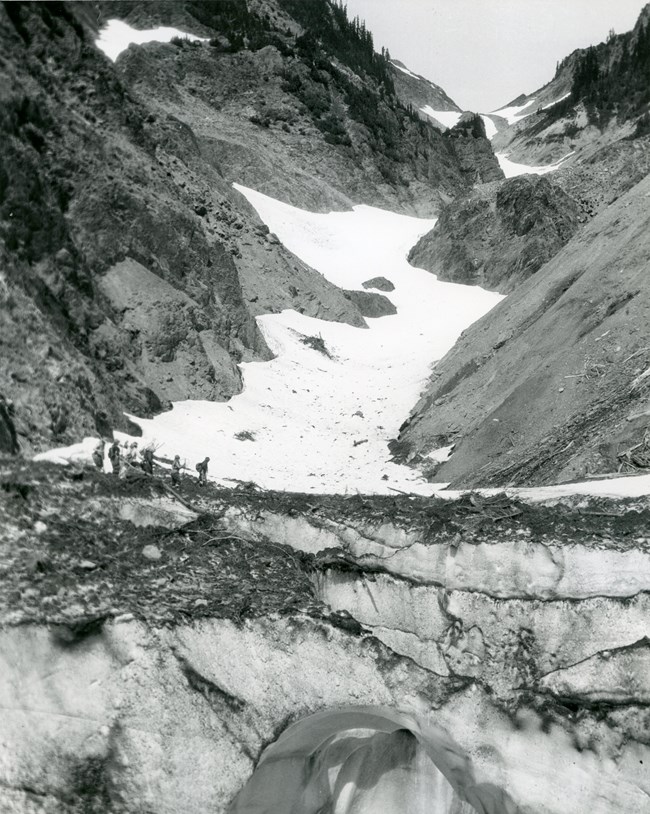 More about the Elwha Snowfinger
The Elwha Snowfinger is the ultimate source of the Elwha River whose waters flow 45 miles to the Strait of Juan de Fuca. Crossed by travelers of the interior Olympics for countless generations, it provided an easily-ascended and snow-covered route into Queets Basin and the Bailey Range. In recent years, lower snowfall and warmer summers have led to its deterioration, making this once easy route into a difficult and often hazardous experience.

Last updated: August 11, 2023