Backcountry Reservations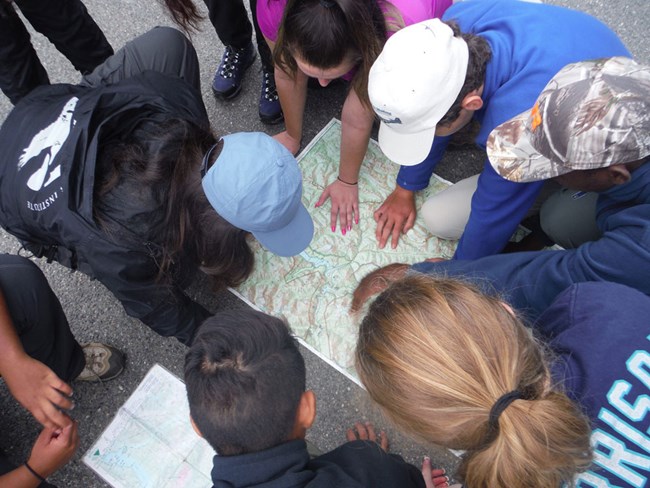 Reservation Policies
North Cascades National Park Service Complex now accepts advance reservations each spring for summer backcountry travel. Reservations can be made for up to 60 percent of the park backcountry camp capacity (the remaining 40 percent are set aside for walk-up permits.)
Stock Parties - Stock parties must contact the wilderness information center (360-854-7245) after submitting their application and before processing begins (usually April 1) in order to receive priority at stock camps. If there are no stock reservation requests, these sites may be allocated to hiker or boater parties.

Timeline - Reservations can be submitted from March 15 to April 15 for camping between the dates of May 15 through September 30. If a hike or climb begins before or after these dates, or you plan to visit a non-reservable area of the park, a first-come, first-serve walk-up permit must be obtained in person at a park visitor or information center. Visit the Wilderness Information Center in Marblemount for assistance with trip planning.

Converting a Reservation to a Permit - Advance reservations must be converted to a backcountry permit before the start of the trip. Reservations can be picked up at the park station closest to point of entry, and must be picked up by 11 am of the trip start date, or the reservation will be cancelled and the sites made available to other visitors.
Application Process
Review the following resources before submitting a reservation application:
Wilderness Trip Planner and Map
Backcountry Permits
Boating on Ross Lake and Ross Lake Map
Camping in Stehekin
Climbing Page
List of Reservable Camps and Capacities

Backcountry Conditions
Some areas are snow covered until early or mid-July! Be aware of potential hazards. If in doubt, wait to visit these areas until later in the season. Hazards include but are not limited to:
Cascade Pass –steep snow (ice axe may be needed), high water crossing (Doubtful Creek, Basin Creek in early season), camping on snow, routefinding in snow, Cascade River Road early season closure. Primary hiking season is July 1 until snowfall.

Copper Ridge - steep snow (ice axe may be needed), high water crossing (northern Chilliwack), camping on snow, routefinding in snow, thin or collapsing snowbridges (Hannegan Pass Trail), Hannegan Pass USFS Road #32 early season closure. Primary hiking season is July 15 until snowfall.
Rainbow - McAlester Loop - Steep snow, ice axe needed (Bowan Pass, north of Rainbow Lake), high or impassable ford (crossing of Bridge Creek at South Fork Camp), seasonal bridges (Rainbow Creek). Primary hiking season for entire loop is late July until snowfall. McAlester Pass may be accessible earlier.
Park Creek Pass, Easy Pass - Steep snow, ice axe and routefinding skills required in early season, ford of Thunder Creek just south of Thunder Basin Camp. Primary hiking season is mid to late July until snowfall.

All climbing areas - normal travel requires the skills and expertise to routefind and navigate technical terrain, including glaciers, crevasses and moats, steep snow and rock, avalanche zones, etc.
The wilderness is a dynamic, natural environment where events and conditions are unpredictable and may vary widely year to year. There is a possibility that trail and campground closures, environmental conditions (such as snow, high stream crossings, etc.), natural events (such as fires, aggressive animals, etc.), or other events may prevent completion of your itinerary. In the event this occurs, every effort will be made to provide an alternative itinerary when you pick up your permit.
Submitting a Reservation Request
Reservation requests will only be accepted via pay.gov. The park will not accept requests by standard mail, fax, phone, or other delivery methods. The application form will be accessible from March 15 (midnight EST)-April 15 (midnight EST).
Applicants will receive a confirmation of their payment and submission via pay.gov, at the time of submittal.
Successful applicants will receive an email confirmation with their reservation itinerary and instructions for permit pickup upon arrival at the park. Non-successful applicants will also receive an email notification that their itinerary did not work. Applicants should receive confirmation by May 15, 2020.

Fees
There is a $20 non-refundable application cost recovery fee for each application request submitted. If the backcountry staff is unable to award an advance reservation itinerary based upon the parameters requested in the application, the $20 fee is not refundable. The application form allows for alternative dates and locations to ensure a successful trip request. Consider all potential trip options and list these on the application.
*Pay.gov allows a variety of payment options. Credit card is recommended for payment.

Changes to Confirmed Advance Reservations
Make any changes to the reservation when the permit is picked up at the park, subject to walk-in availability. There is no charge for changing permit itineraries on a walk-in basis, up to 24 hours in advance of the start of a trip.
Cancellations
All reservation application fees are non-refundable. If travel plans change and you cannot use all, or part, of the backcountry reservation, please call 360-854-7245 to cancel the trip. A refund will not be provided, but it will allow other campers to enjoy those sites.

Technical Difficulties
For assistance with technical difficulties with the Pay.gov application process, call Pay.gov customer service at: 800-624-1373, option 2 (or 216-579-2112, option 2). Backcountry staff cannot diagnose technical issues related to the Pay.gov website.


Last updated: October 30, 2019