Plan Your Visit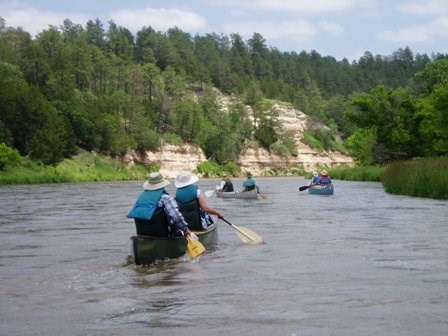 Visiting Niobrara National Scenic River is a bit different from more traditional National Park sites. Lands along the river are privately owned, with the exceptions of Fort Niobrara National Wildlife Refuge (landing, etc.), Smith Falls State Park (landing, camping, etc.) and Brewer Bridge Landing. We recommend visiting the Niobrara National Scenic River Visitor Center to make sure you get the most out of your trip.
Local businesses provide watercraft rental, shuttle, campground, and lodging services and provide river access at other landings along the river. To make reservations, contact the business of your choice from the local River Outfitters.
If you have your own equipment and transportation, you may use any of the three public landings or the public bridge right-of-ways without going through an outfitter. Outfitters may also allow you to use their private landings for a fee.

If you'd rather keep your feet dry, explore the public land at Fort Niobrara National Wildlife Refuge and Smith Falls State Park. Both have beautiful views of the river, short hiking trails, and seasonal visitor centers.

For more information, explore our site.


Last updated: October 20, 2020