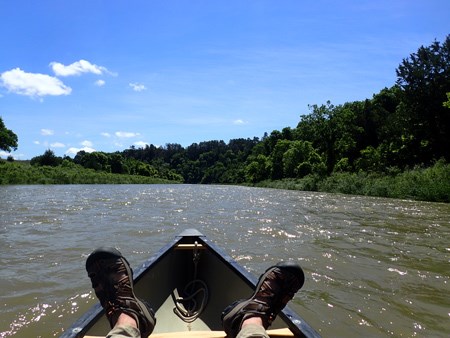 Most visitors come to the Niobrara to float the river by canoe, tube, kayak, or raft. Many camp overnight in various private campgrounds operated by individual outfitters, or at the campground in Smith Falls State Park.

While floating the Niobrara is a popular summer activity, spring and fall are also great times to enjoy the river by canoe or kayak.
80% of visitors come on Saturdays, 10% on Sundays, and 10% the rest of the week. If you are looking for a social experience, Saturday is the ideal time. If you are looking for a quieter, more family-friendly trip, consider Sundays or a weekday float.
The National Park Service does not endorse or promote specific private businesses. The following links are provided for your trip planning convenience:
Local Outfitters

River Flow and Conditions
River Guides - Downloadable PDF files:
You will need Acrobat Reader to open these files. Acrobat is free, and you can download it here.
Niobrara National Scenic River map

Paddler's Chart - Brief descriptions of 6 stretches of the river.

River Guide 1 - Borman Bridge to Ft. Niobrara National Wildlife Refuge

River Guide 2 - Ft. Niobrara NWR to Berry Bridge

River Guide 3 - Berry Bridge to Brewer Bridge

River Guide 4 - Brewer Bridge to Rocky Ford

River Guide 5 - Rocky Ford to Norden Bridge

River Guide 6 - Norden Bridge to Meadville

**Please note that the Niobrara NSR does not provide written river guides for the eastern half of the river downstream from Meadville. This section is shallow, has few amenities (campgrounds, etc.), and is not recommended except for paddlers skilled in reading the river channel. If you would like to float beyond Meadville, please call a park ranger at 402-376-1901 for more information.

Surge Flow - A unique hydrological feature of the Niobrara