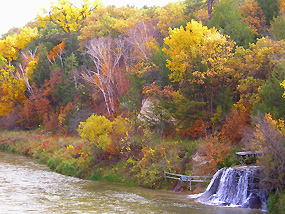 FEES

National Park Service Fees: None. Other landowner/agency fees may apply, see below.

The National Park Service manages river use outside of the Fort Niobrara National Wildlife Refuge boundary, but neither owns nor operates any facilities within Niobrara National Scenic River. Property is privately owned, with the exception of the Refuge and Smith Falls State Park. The river is managed in partnership with private and state landowners to protect nature and recreation.
OTHER AGENCY/ ACCESS FEES
Fort Niobrara National Wildlife Refuge - US Fish & Wildlife Service
Launch Fee (per person): $1.00/Day - must wear wrist band as proof of permit
Smith Falls State Park - Nebraska Game & Parks Commission
Camping: $5/person/night (11 years old and under are free)
Entry Permit (per vehicle): $5/day or $25 for an annual pass
RESERVATIONS
Canoe, Kayak, Tube and Shuttle Reservations can be made with private outfitters using this list.

Campground Reservations: are available at private outfitter/campgrounds (see contact list link above) and at Smith Falls State Park, (402) 376-1306.
OTHER NATIONAL PARKS
If you plan to visit other national parks with an entrance fee, learn more about the America the Beautiful pass program. You may also learn about fee-free days in the national parks.