Know Before You Go

Plan ahead for your visit:
Hours of Operation
Muir Woods is currently open from 8:00 AM until 7:00 PM. Note that our hours change sesonally. For more information on hours of operation, visit our Basic Information page.
The Muir Woods Visitor Center is open 8:00 am to 30 minutes before the park closes.
Pets
Pets are not permitted in Muir Woods. The park is very small and can get very crowded. To protect the wildlife, other visitors, and your pet, we suggest that you visit nearby areas such as the Coastal Trail at Muir Beach, and some trails in the Marin Headlands where they are permitted. For more information please click here.

Only service animals trained to do a specific task are allowed in the park.
Maps and Hikes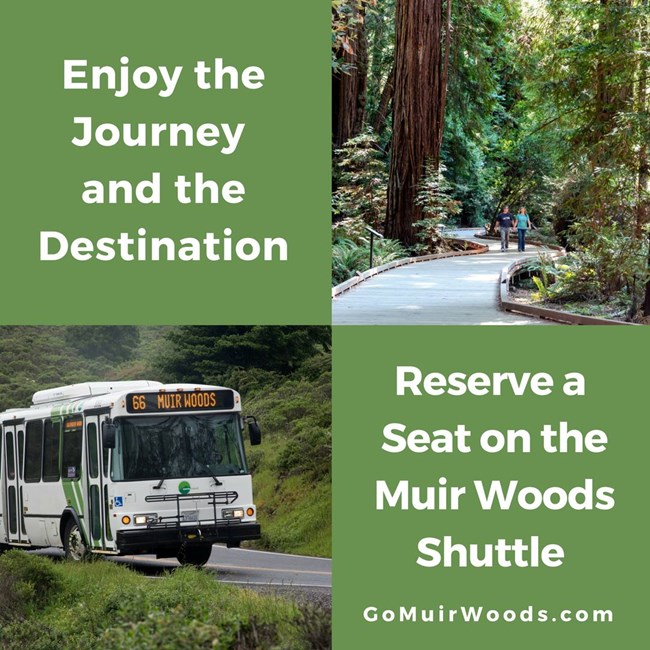 Parking and Fees
To park at Muir Woods, reservations are always required and must be made at GoMuirWoods.com ahead of your visit. There is NO cell phone service or WiFi at or around Muir Woods National Monument so download your parking reservation in advance. Reservations frequently sell out, especially on weekends & holidays, so please plan ahead!
About the parking timing system:
Your reservation comes with a 30-minute arrrival window. You are guaranteed a parking spot during that period. If you are in a standard sized vehicle, you are then welcome to stay until the park closes.

If you are running early or late, parking attendents may try to accomodate you. You can always call ACE parking at 800-410-2419 with updates on your arrival, especially if it is more than 20/30 minutes earlier or later than your time slot. Anything less than 20 minutes outside of your arrival window will very likely be accomodated.
Entrance Fees
Muir Woods has a $15/person entrance fee that is separate from parking or shuttle reservations. Individuals aged 15 or younger get in free. Entrance fees may be purchased in advance with your parking reservation via GoMuirWoods.com or upon arrival to the park. For further information on entry fees, please visit our Fees and Passes page.

Any National Park Service pass will cover entrance fees for the pass-holder and three additional adults. This includes the Muir Woods Annual Pass (available for purchase on recreation.gov and at our Visitors Center) or any America the Beautiful passes. To learn more about eligibility, please visit the National Park Service Entrance Passes page.
Shuttle
Ride the Muir Woods Shuttle! The shuttle is only for visitors who parked off-site, and need to be shuttled on-site, and is a good option for those looking to take public transportation. There is no shuttle that runs through the Woods; it is a walking-only park.

The shuttle provides seasonal service to Muir Woods National Monument and generally runs over the summer, on holidays, and weekends. Shuttle service locations and timing is subject to change, so please visit GoMuirWoods.com for up-to-date information.
Ride-shares and Taxis
You may take a ride-share or taxi to Muir Woods without a reservation, however, there is no cell-service at Muir Woods to call them for a return ride. Muir Woods has a pay-phone behind the Visitor Center and posted list of cab companies that service the woods. When hiring a taxi, visitors have the option of negotiating a flat rate or using the meter. Under some circumstances a flat rate may be cheaper.
Public Transit Options
Public Transit to Muir Woods that drops off directly at Muir Woods is limited to the Muir Woods shuttle (see information above).

Marin Transit Route 61 and 61F stops at Panoramic Hwy & Edgewood Av, right next to the Mountain Home Inn. This is about 800' above Muir Woods and 1.5 miles away.

For experienced and prepared hikers, if you disembark at Panoramic Hwy & Edgewood Av, you can take a left on the Panoramic Trail to the Canopy View Trail to Muir Woods. You will still have to pay your entrance fee.

If you plan to take public transit, factor in a round-trip hike of 3 miles with 800' of elevation loss and gain.
Gift Stores and Cafe
The Golden Gate National Parks Conservancy bookstore is located at the Visitor Center. You can also view their online offerings at https://store.parksconservancy.org/.

The Muir Woods Trading Company retail space is open 9 a.m. to approximately an hour before closing time.

The cafe is open 9 a.m. to approximately an hour before closing time.

Last updated: September 5, 2023