Pets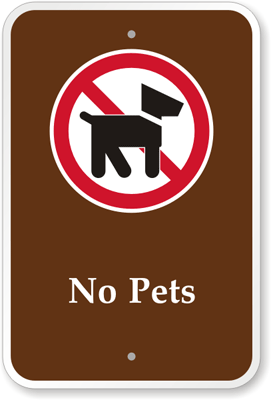 Pets are not allowed on any park trails or at ranger-led programs.
Pets are wonderful creatures that give more than comfort and companionship. We love our fur-babies and want to keep them (and you) safe!

There are carnivores like coyotes, bobcats and mountain lions, as well as herds of very protective black-tailed deer in our park. You, or your pet can quickly get into harms way if your pet encounters park wildlife. The scent of your dog, or even a single bark can cause wild animals to be agitated.

Pets are not permitted in Muir Woods. The park is very small and can get very crowded. To protect the wildlife, other visitors, and your pet, we suggest that you visit nearby areas such as the Coastal Trail at Muir Beach, and some trails in the Marin Headlands where they are permitted. For more informtaion on Golden Gate National Recreation Area's pet policy, click here.


What's the Harm With Pets in Wild Places?
Predators including bobcats, mountain lions, and coyotes may see pets as prey, placing both pet and owner in danger.

Some pets may mark territory with scent or spread domestic disease, interfering with natural patterns and causing injury to wildlife.

Even normally well-behaved pets can become stressed by unfamiliar surroundings, threatening visitors and wildlife in close situations such as on park trails.

Dead salmon, found along riverbanks throughout the parks, can be extremely toxic to dogs.
Where Are Close-by Alternatives?
Pets under your control are allowed at the following nearby locations (be sure to inquire locally for specific regulations).
Muir Beach (Beach Area Proper) On-leash or Voice Control.

Muir Beach (Kaashi Way & Coastal Trail) On-leash Only.

Muir Beach (Redwood Creek Lagoon & Riparian Area) Closed to Access.
Marin County
Location
Regulation
Alta Trail (Formerly Alta Ave) Between Marin City (Donahue St. ) to Oakwood Valley Trail
On-Leash OR Voice Control
Muir Beach - Beach Area Proper
On-Leash OR Voice Control
Muir Beach - Kaashi Way & Coastal Trail
On-Leash Only
Muir Beach - Redwood Creek Lagoon & Riparian Area
Closed to Access
Oakwood Valley - Oakwood Valley Trail to Alta Trail
On-Leash OR Voice Control
Oakwood Valley - Oakwood Meadow Trail
On-Leash Only
Homestead Valley
On-Leash OR Voice Control
Rodeo Beach and South Rodeo Beach (Excluding lagoon)
On-Leash OR Voice Control
Golden Gate Bridge to Marin Headlands Visitor Center (Coastal Trail to SCA Trail; SCA Trail to Slacker Trail; Slacker Trail to Julian Trail; Julian Trail to Coastal Trail) (Upper Fisherman's Trail also available)
On-Leash OR Voice Control
Old Bunker Road Loop (Rodeo Beach Parking Lot along Coastal Trail to Old Bunker Road; Old Bunker Road to Fort Cronkhite Trail; Fort Cronkhite Trail to Lagoon Trail; Lagoon Trail back to Rodeo Beach parking lot)
On-Leash OR Voice Control
Fort Cronkhite - Picnic & Parking Lot
On-Leash Only
Orchard Trail (Formerly Orchard Fire Road) and Pacheco Trail (Formerly Pacheco Fire Road) connectors to Alta Trail
On-Leash OR Voice Control
Wolf Ridge Loop (Coastal Trail to Wolf Ridge Trail; Wolf Ridge Trail to Miwok Trail; Miwok Trail to Lagoon Trail)
On-Leash OR Voice Control
County View Road connector trail to Miwok Trail
On-Leash Only
Fort Baker
On-Leash Only
Fort Baker - Chapel Steps Trail, Pier, & Battery Yates
Closed to Acces
Coastal Trail (Between Hill 88 and Muir Beach)
On-Leash Only
Miwok Trail (Between Tennessee Valley parking lot and Highway 1)
On-Leash Only
Rhubarb Trail
On-Leash Only
Batteries Loop Trail around Battery Smith-Guthrie
On-Leash Only
South Rodeo Beach Trail
On-Leash Only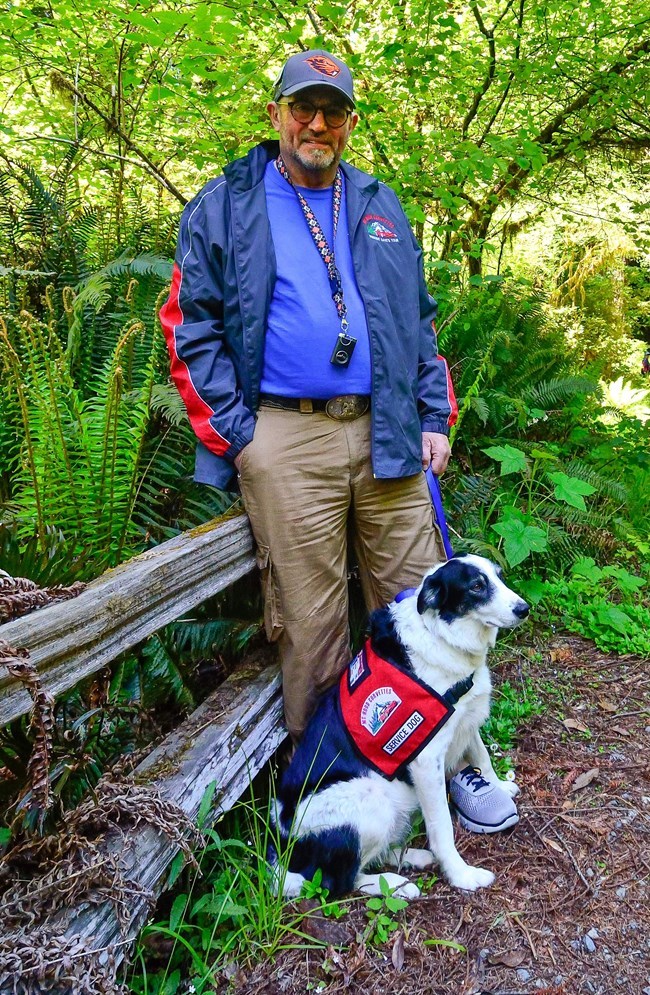 Service Animals
Service Animals, as recognized by the
Americans with Disabilities Act
, are allowed:
Service animals are defined as animals that are individually trained to do work or perform tasks for people with disabilities.
Examples of such work or tasks include guiding people who are blind, alerting people who are deaf, pulling a wheelchair, alerting and protecting a person who is having a seizure, reminding a person with mental illness to take prescribed medications, calming a person with Post Traumatic Stress Disorder (PTSD) during an anxiety attack, or performing other duties. Service animals are working animals, not pets. The work or task a dog has been trained to provide must be directly related to the person's disability.
Animals whose sole function is to provide comfort or emotional support do not qualify as service animals under the ADA.
For more information on the DOJ ADA Revised Service Animal Regulations, please click
here
.
For more information about a service animal in training, please contact:
Richard De La O, Accessibility Program Manager
201 Fort Mason San Francisco, CA 94123
Voice:
(415) 561-4958 .
Email:
goga_accessibility@nps.gov
Individuals who are deaf, hard-of-hearing, deaf/blind or have speech disabilities may utilize the following Federal Relay Service numbers:
(800) 877-8339 Federal Relay Service (877) 877-6280 VCO


Last updated: December 7, 2022