Hike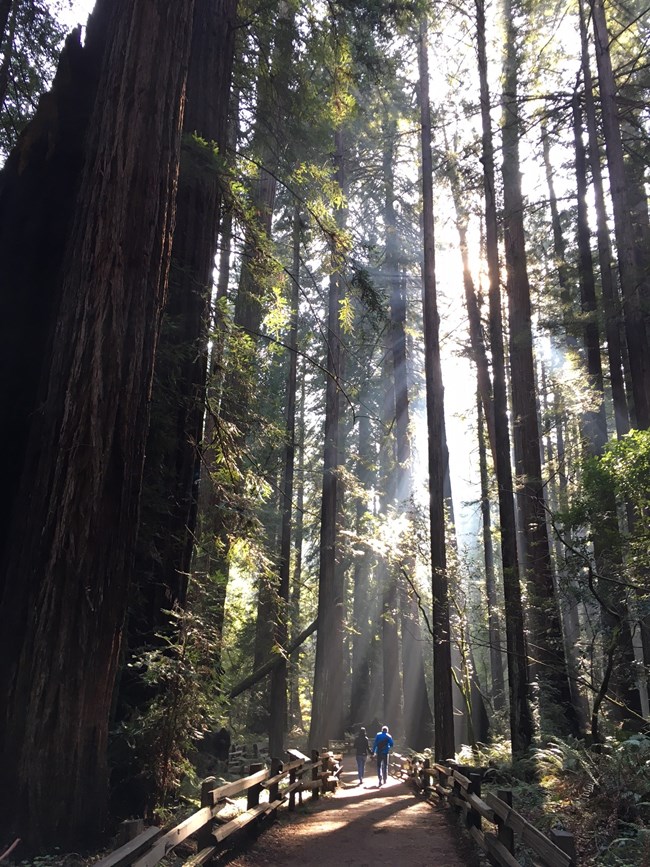 Muir Woods National Monument contains 6 miles of trails. There is a 1/2 hour loop, a 1 hour loop, and a 1 1/2 hour loop as well as longer hikes on trails that extend into surrounding Mount Tamalpais State Park. View a map of Muir Woods and its vicinity. All of these walks afford views of old-growth coast redwoods, the tallest living things in the world.
Pets, bicycles, smoking, horseback riding and camping are not permitted within the park. Picnics are not permitted in the forest.
The trails in Muir Woods are asphalted or boardwalked. Trails on the canyon walls are dirt, narrow, steep, and rutted with tree roots. Stroller and wheelchairs are not advised on most of the upper trails. Trail information is available in the Visitor Center.

Map of Muir Woods
More detailed map of hiking trails (courtesy of Mt. Tamalpais State Park)
Ready to Plan Your Hike?
Here are
descriptions of popular walks and day hikes
in and around Muir Woods, including distance and difficulty. Check with staff when you arrive about current trail conditions, and be sure to carry a hiking map.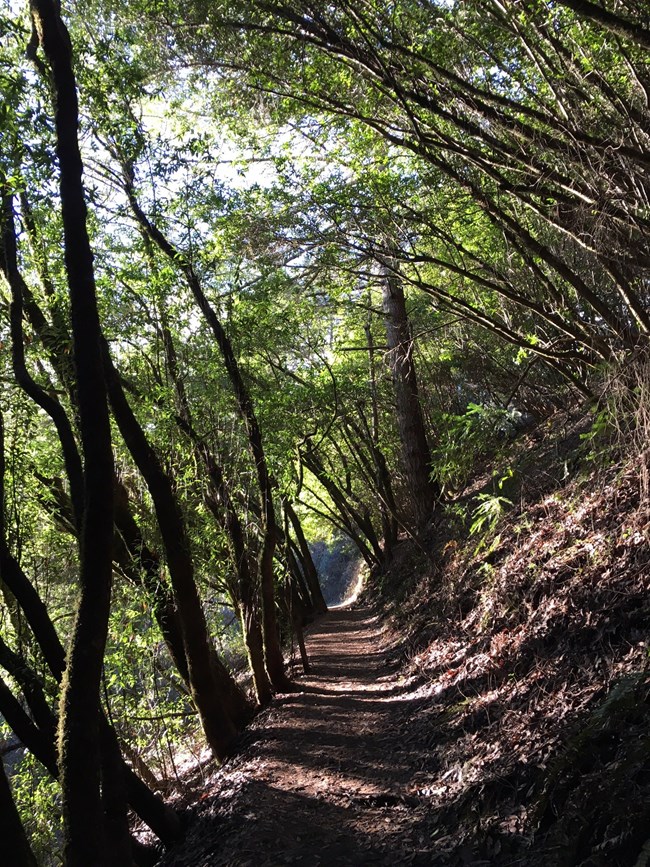 Mount Tamalpais State Park
Muir Woods National Monument is surrounded by California State Park property. Many trails to and from Muir Woods connect with
Mount Tamalpais State Park
trails. These trails are long, narrow, unpaved, and often steep, requiring sturdy shoes with good treads. If you are planning to exit the monument via a state park trail, we recommend that you purchase a Muir Woods Park Map which includes a Nature Self-Guide and Watershed Hiking Map. This map may be purchased for $1 at the Visitor Center or at the self-serve map box at Bridge 2.
Last updated: May 16, 2018