Wilderness Guidelines And Regulations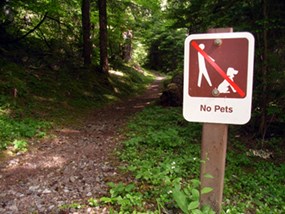 Carry the 10 Essentials
Pack the "10 Essentials" and be prepared for minor injuries, sudden weather changes or delays. Always carry and know how to use:
Map, compass, and GPS system
Sunglasses, sunscreen, and hat
Extra clothing (warm!) and rain gear
Flashlight or head lamps (extra batteries)
First aid supplies
Waterproof matches or lighter
Repair kit and tools (for gear)
Extra food
Extra water
Emergency shelter
For your care and safety
Boil or otherwise treat all water before drinking.
Be sure to tell friends/family of your plans so they can notify rangers if you fail to return.
For the care of the wilderness
The following items or activities are prohibited on the trails and in the backcountry of Mount Rainier National Park:
Fire (White gas, iso-butane cartridge, alcohol stoves are okay. No bio-fuel stoves; i.e., those that burn twigs, sticks, cones, etc.)
Pets (except on the Pacific Crest Trail - must be leashed)
Bow/arrows, slingshot, etc.
Destroying or disturbing any natural, cultural, or archeological feature
Feeding, disturbing, or hunting wildlife
Short cutting switchbacks on any trail
Polluting or contaminating any water source (with soap, waste, etc.)
Disposing of human waste within 100 feet of water or within sight of a trail
Camping within 100 feet of water except in a designated campsite
Leaving trash in toilets or elsewhere in the wilderness.
Also
All trash must be packed out (Do not burn, bury, or throw into pit toilets).
Anyone camping in the backcountry must obtain a wilderness permit or climbing pass.
Camp only at the site indicated on your permit for that particular night.
Party size limitations and backcountry regulations are enforced.
Any activity which damages or disturbs the resources of Mt. Rainier is prohibited. The following recommendations, which include Leave No Trace principles, will assist you in your efforts to minimize resource damage. You will be rewarded with a memorable wilderness experience, and you will be helping to preserve that opportunity for others in the years to come.
Wilderness Camping
Wilderness Camping Permits are required year-round for camping overnight in any area of the park's backcountry. Climbing permits are required year-round for any day or overnight travel on glaciers or above 10,000 feet in elevation, including Little Tahoma. The Climbing Permit also serves as the wilderness camping permit for overnight trips. Wilderness Camping Permits are free while a Climbing Permit requires the purchase of an annual Climbing Pass for each member of the party.
The Wilderness Permit System is used to regulate the numbers of people permitted to camp in the wilderness in order to maintain an optimum wilderness experience for those users and to protect fragile wilderness resources. This management system utilizes designated camps and off-trail camping. Designated trailside camps are managed by the number of parties permitted. The three designated camps on climbing routes are managed by the total number of people permitted. Off-trail camping is managed by the number of parties permitted in administrative sub-zones. These subzones are defined as Crosscountry Zones in which the predominate use is by backpackers, and Alpine Zones in which generally only climbing activity occurs. Refer to the map to identify camps, zones and use limits.
Seasons Defined: Summer is defined as May 15th to September 30th and when snow depth is less than two feet outside these dates. Winter is defined as when snow depth is greater than two feet (5 feet at Paradise) between the period of October 1st to May 14th.
Party Size:
Summer: Party size is limited to 5 people for camping in individual sites at trailside designated camps, camping off-trail in Crosscountry Zones, and camping on bare ground in Alpine Zones. Parties may not exceed five people, unless the party is a single immediate family (parents and children). Party size for "groups" is defined as 6 to 12 people. Group camping is permitted at specific group sites at 25 designated camps, and when camping on snow in Alpine Zones.
Winter: Party size is limited to 12 people for all areas. Large group (over 12 people) winter camping is available at Paradise by reservation. More on winter camping at Paradise.
Trailside Camping: Most backpackers prefer to use the established designated trailside camps along the park's trail system. Camping along trails is only permitted at these established camps. All camps have primitive toilet facilities, marked sites, food storage poles (bear poles) for hanging food and garbage, and a nearby water source. A trailside camp has from one to eight improved sites, each of which will accommodate a party of 1-5 people. Individual sites will hold at most 2 tents. Parties requiring space for 3 or more tents must camp in a group site. Many of the trailside camps also have a group site for "group" parties of 6-12 people. These sites will typically hold 3-5 tents.
Crosscountry Zone Camping: Crosscountry travel and camping is demanding, challenging, and rewarding. These beautiful, pristine areas can be rough and difficult to navigate (especially in poor weather). There are no maintained trails, campsites, or amenities, and water sources can be scarce in late season. Choosing to camp in a crosscountry zone requires a higher level of physical conditioning, knowledge and experience with Leave No Trace camping practices, and sound navigational skills. Crosscountry zone camping also offers an unparalleled opportunity for solitude and can be among the most rewarding experiences hiking has to offer. All crosscountry camping sites must be at least 1/4 mile away from any road or established trail. However, suitable terrain for camping is almost always much farther and may take an additional several hours to locate. Camps must also be at least 100 feet from lakes, streams, and other wetlands. Party size may not exceed 5 people in summer. Choose crosscountry camping only if you are adept with map and compass and are in excellent physical condition for enduring the additional challenge of crosscountry travel. Hikers doing the complete Wonderland Trail are limited to camping in designated camps only—the use of cross-country zones is not permitted.
Alpine Zone Camping: Mountain climbers generally choose to camp on-route on the snow and ice covered areas on the slopes of Mount Rainier itself. Within the alpine zones, there are two high camps on the two most popular climbing routes (Camp Muir and Camp Shurman).
Camping is permitted only on permanent snow or ice or on bare ground areas previously used as a campsite. Do not clear new tent sites or build windbreaks on rocky or snow-free areas. It is permissible to use existing established rock windbreaks. Moving rocks exposes fragile roots of alpine plants and causes the plants to die. Alpine plants depend on the shelter for rocks to survive. Of particular concern is the Muir fellfields on either side of the Muir Snowfield, between Pebble Creek and Anvil Rock.
Wilderness Camping and Climbing Policies:
Parties may camp for a maximum of four consecutive nights in any one camp or zone.
Climbing parties are limited to reserving a maximum of four nights total within the Muir and Schurman corridors (however, parties may add additional nights within those corridors, if available, when they register for their climb).
Hikers doing the complete Wonderland Trail are limited to camping in designated camps only—the use of cross-country zones is not permitted.
Climbers must have two people/party minimum, unless prior permission for a solo climb has been obtained.
Climbers must be at least 18 years old or have written parental permission.
Large groups may not split into smaller parties with same itinerary in order to circumvent party size restrictions.
Follow the directions on the Wilderness Permit page to request a reservation.
Leave No Trace
When traveling in the wilderness of Mount Rainier National Park and the rest of the Pacific Northwest you should be prepared to Leave No Trace, or only minimal signs of your visit. The National Park Service is a cooperating agency in the Leave No Trace national educational program. Please incorporate the following ideas and practices into your planning and travel in the Northwest's wilderness area.
Plan ahead and Prepare: Obtain a permit if wilderness camping. Know park regulations. Seek information regarding weather, route conditions, restrictions, less traveled routes, etc. Repackage food. Get rid of unnecessary containers, boxes, and bottles and utilize reusable containers or plastic bags. This saves weight and reduces litter for carry-out. Select appropriate equipment that will help you leave no trace. For example, gaiters that protect your feet and boots will allow you to stay on the trail when it's wet or muddy. Lightweight camp stoves, free-standing tents and collapsible water containers allow the flexibility to camp in the most impact-resistant site available. Be unobtrusive, select earth-toned clothing, tents and other materials. Know the area and what to expect.
Camp and Travel on Durable Surfaces: In popular or high use areas, concentrate use. Hike on existing trails and select durable rest spots. In designated wilderness camps, camp only in designated sites.
When traveling off-trail in cross-country or alpine zones walk apart, not in single file, when crossing vegetation to spread out travel impacts. Remember, in some plant communities, the damage caused by one footstep can take years to mend! Do not camp in meadows. Choose a durable campsite surface such as dirt, rock, gravel and snow. It may take several hours of off-trail hiking to find a suitable campsite. Utilize a previously used site whenever possible but avoid places where impacts are just beginning. Avoid enlarging existing sites and never "scrape" or clean a site of leaves or needles. This cushion is necessary for erosion and trampling control.
Minimize your impact at a campsite. Relocate your campsite daily to reduce impact to vegetation. Avoid placing equipment on vegetation. Wear soft-soled shoes around camp. Anything left sitting outside on the ground is a potential chewable for critters. Clean camp when you leave. An unclean site might encourage the next visitor to choose a new site. Take a few moments to naturalize your site. Brush out your footprints, rake matted grassy areas with a stick, and double check for small particles of trash.
Dispose of Waste Properly: "Pack it in, pack it out." Reduce litter at the source by repackaging food into reusable containers. Reduce food waste leftover from cooking by planning meals carefully. Pack out all trash, food scraps and toilet paper. Be careful with small pieces of trash such as candy wrappers and twist ties that often fall out of pockets and litter trails. Please pick up after less thoughtful people who have gone before you.
When washing dishes, use hot water and elbow grease, not soap. Strain-out and pack-out food particles, and disperse water over a large area at least 200 feet from surface water. Avoid contaminating water supplies from bathing. Minimize the use of soap and only wash yourself at least 200 feet from water sources.
Human waste: There are four guiding principles behind the Leave No Trace sanitation practices:
Avoid polluting water sources
Eliminate direct contact with insects and animals
Maximize decomposition
Minimize the changes of social impacts.
All trailside camps at Mount Rainier have pit or composting toilets. In a cross-county zones the "cathole" method is the most widely accepted alternative in areas with soil. To promote decomposition, choose a site in organic soil rather than sandy mineral soil. With a small garden trowel dig a cathole six to eight inches deep and four to six inches in diameter. Mix in dirt and cover, attempting to disguise the hole with brush and ground cover. Pack out all toilet paper. A less impacting option is to utilize "Blue Bags" and pack out all your waste, depositing the bags in designated collection barrels. In Alpine Zones, climbers are required to utilize the Blue Bag system.
Leave What You Find: Minimize site alterations. Leave all sites as you found them. Do not dig trenches, level sites, or construct tables, chairs, or rock cairns. Clean up a site with these intrusions. Avoid damaging live trees and plants. Never hammer nails into trees or girdle trunks with tent lines. Pick only berries and only pick what you can consume on the spot. Leave natural objects and cultural artifacts. Natural objects of beauty or interest such as rocks, antlers or fossils, must be left undisturbed for others to enjoy. It is illegal to disturb or remove any such objects in a National Park. The same applies to cultural artifacts such as pot shards, projectile points, and other items.
Respect Wildlife: Do not feed or approach any animal. Hang your food. In some sub-alpine areas without tall trees, the use of a bear-proof canister is highly recommended. Remember to place other scented products, like toothpaste, deodorant and trash, along with your food.
Be Considerate of Other Visitors: Be considerate of other visitors and help protect the quality of their experience and desire for solitude. Let nature's sounds prevail; avoid loud voices and noises. In crosscountry zones, camp out of sight of trails and minimize the visual impact of your presence. Find a balance between ecological and social impacts.
For more complete information regarding Leave No Trace skills and ethics visit the Leave No Trace website.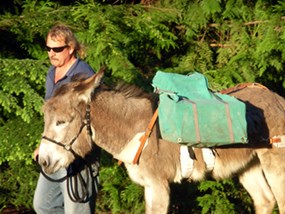 Stock Use

Saddle and pack animals (horses, mules, burros and llamas) are welcome on the Pacific Crest Trail and on the Laughingwater Creek Trail from Highway 123 to the Pacific Crest Trail near Carlton Pass. Trails are often snow covered until mid-summer. Rough terrain, difficult river crossings, and drastic elevation changes have challenged many people with stock.
Check trail conditions before you arrive.
Three Lakes Camp
Three Lakes Camp is open to stock use. Please keep stock animals at least 100 yards from other campsites. Tie stock only at hitching rails. To camp at Three Lakes, you will need a wilderness permit, available at wilderness information centers and most ranger stations.
Party Size
You may bring a maximum combination of 12 people and stock animals on the Pacific Crest Trail and a maximum of 5 head of stock on the Laughingwater Creek Trail.
Grazing
In order to protect fragile native vegetation, stock animals must not graze in the park. Carry an adequate supply of pellet feed. To prevent the spread of alien plants and weeds, feed animals pellet feed for at least two days prior to entry into the park. Never dump or leave animal droppings in parking areas or along roadways.
Parking
Stock trailer parking is available across the road from the trailhead at Laughingwater Creek. Two parking lots suitable for stock trailers are also available at Chinook Pass for acess to the Pacific Crest Trail. These parking lots are just outside the National Park boundary.
Thank you for being a responsible backcountry visitor, and helping protect Mount Rainier National Park.
Last updated: July 2, 2020