Explore Winter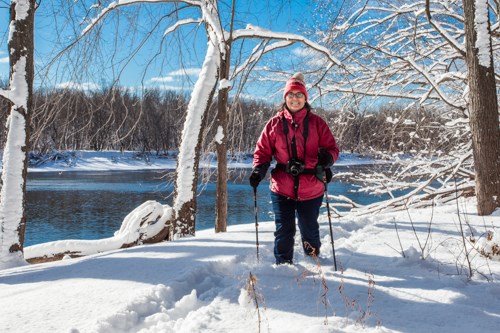 Introduction
Cold, snow, ice. They dominate several months of Minnesota's year, but it's not a time to be caught indoors. Get out on your own or join us for winter activities such as snowshoeing, ice fishing, winter hiking and many other activities and enjoy the cold.
Suggestions
Below are a few suggestions for getting outdoors and, for those extra cold days, ideas for indoor activities. Be sure to check our Event Calendar for park and partner programs. Call the Mississippi River Visitor Center at (651) 293-0200 to explore more ideas with a ranger.
Wildlife Watching
Eagles
Eagles concentrate below Mississippi locks and dams in winter where open water provides prey for these fish-eating birds. Among our favorite spots for viewing these majestic birds is below Lock and Dam 2 at Hastings, Minnesota. Take the trail in Hasting's River Flats Park north to the observation platform, which is a good location from which to watch eagles roosting, fishing, and interacting with each other.
Another option is to drive Highway 61 south from the Twin Cities to Wabasha for some great views of the winter landscapes along the Mississippi River. Watch for eagles at Redwing's Colville Park (just south of the city) and at pullouts just north of Read's Landing. The National Eagle Center in Wabasha is a great place to learn more about bald and golden eagles.
Other Birds
Winter waterfowl congregate in open waters below dams in the Mississippi National River and Recreation Area, but a place we'd recommend is Point Douglas Park at the confluence of the St. Croix and Mississippi Rivers and the area around Prescott, Wisconsin. There is an open water area at the confluence that may host large numbers of waterfowl and bald eagles.
White-tailed Deer
White-tailed deer are common in Fort Snelling State Park and are not particularly wary. Hike or drive Picnic Island, especially early or late in the day. Deer are often seen on Pike Island by hikers.
Please do not feed the deer. Deer have specialized digestive systems and in winter are feeding primarily on dead leaves and twigs and don't tolerate changes in diet easily. Feeding unnatural foods by good-hearted people may lead to serious complications and even the death of the animal.
Hiking
Hiking is always a favorite winter activity. Depending on the depth of snow, snowshoes or cross country skis might be desirable. Some places we'd recommend include Fort Snelling State Park (snowshoe rentals) and Crosby Farm Regional Park (in the Saint Paul area), Coldwater Spring (Minneapolis), and Coon Rapids (both East and West have snowshoe rentals) and North Mississippi Regional Parks (northern suburbs). In the southern suburbs, we'd suggest a couple of tougher hikes at Pine Bend Bluff and Grey Cloud Dunes.
Geocaching
Geocaching is always a fun activity and provides exercise as well. Strap on a pair of cross country skis or snowshoes and go geocaching. Check our geocaching page for places to go.
Ice Fishing
What sport is more quintessential than ice fishing in Minnesota? Learn how to ice fish, get questions answered, and find some hot spots for cold days on our website.
Museums and Visitor Centers
For those that prefer indoor activities in winter, there are a number of museums, cultural centers, and visitor centers that are scattered throughout the Park's 72-mile long corridor. Use this winter to learn more about our history, the Mississippi River, and the wildlife that surrounds us!
Be sure to check hours of operation as some organizations may have abbreviated winter hours.
Resources and Other Activities
The Great Minnesota Ski Pass
Find out how to obtain a Minnesota Ski Pass and learn about locations to experience the best Minnesota has to offer in groomed cross country ski trails.
Having Fun with Minnesota Fish
Dig out those crayons and give the kids something to both do and learn on cold winter days. This coloring book has pictures of some of our favorite Minnesota fishes to color and some tidbits of information about each.
Project Feeder Watch
Help scientists track changes in bird winter populations by watching and recording what birds are at your backyard bird feeders.
Last updated: March 10, 2021