Stone Arch Bridge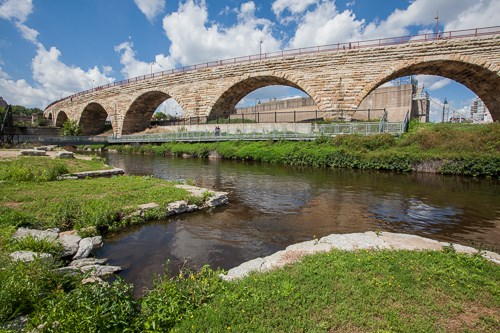 Introduction
The Stone Arch Bridge is a key link in the St. Anthony Falls Heritage Trail, which has pedestrian walkways and bicycle lanes. The Heritage Trail is a two-mile trail with an extensive system of interpretive and directional signs and kiosks.
The Stone Arch Bridge is the only bridge of its kind over the Mississippi River. It is made of native granite and limestone, and measures 2100-feet long by 28-feet wide. The bridge consists of 23 arches, and spans the river below St. Anthony Falls in Minneapolis, MN.
History
Built by railroad baron James J. Hill in 1883, the bridge allowed for increased movement of people and goods across the river. It served as a working railroad bridge until 1978, but is still seen as a symbol of the railroad age.
Rehabilitation of this National Historic Engineering Landmark began in 1980. Traffic on the bridge is now characterized by a much slower pace. Mostly used by walkers and bicyclists, the bridge is one of the best ways to enjoy the view of St. Anthony Falls.
Activities
Visitors can enjoy the trail across the bridge on their own year-round. Seasonal guided walking tours of St. Anthony Falls and the Stone Arch Bridge are also offered.
Hours, Directions, and Contact Information
Related Activities
Biking, Birds & Wildlife, Family-Friendly, Fishing & Hunting, Hiking & Walks, History & Culture, Visitor Centers
Sites Nearby
Father Hennepin Bluffs
,
Mill Ruins Park
,
Mill City Museum
,
First Bridge Park
,
St. Anthony Falls National Historic District
,
Grand Rounds Scenic Byway
,
Boom Island Park
,
Last updated: February 27, 2020