First Bridge Park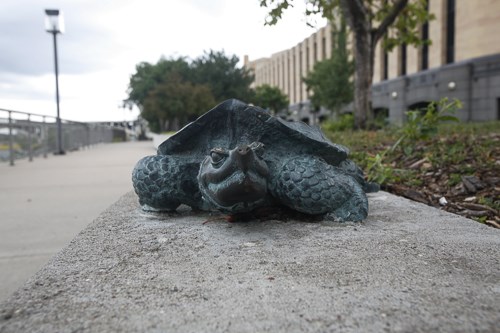 Introduction
The name for the park was chosen because it is the site of the first bridge across the Mississippi River - anywhere! Along with Mill Ruins Park in Minneapolis, First Bridge Park represents an effort to preserve and illustrate the history of Minneapolis.
History
Until late 1854, travelers bound for the west crossed the Mississippi River by fording the river and later by ferry. Then in 1854, the first bridge to span the Mississippi River anywhere along its length was constructed at this location by a group of speculators led by Franklin Steele.
Up to this time roads and trails tended to run parallel to the river and brought people and goods to the river's banks for transport north or south by ship. Bridges changed this dynamic as goods could be shipped east and west across the river.
The original bridge at this location was operated as a private toll bridge until it was purchased in 1869 by Hennepin County. Unfortunately, it quickly deteriorated and was replaced by a succession of three other bridges built in this same location.
The current Hennepin Avenue Bridge was constructed in 1990, but pilings and artifacts from those previous bridges still exist and are preserved within the park. Interpretive panels summarize the area's rich history.
A curving wall is a great place to sit and view the river. Look for artwork embedded on the wall, sidewalk, and elsewhere in the park. The park is on the west bank of the river and is linked to other nearby parks through an extensive trail system.
Activities
Biking, Fishing & Hunting, Hiking & Walks, History & Culture
Nearby Sites
St. Anthony Falls Historic District, Stone Arch Bridge, Mill Ruins Park, Boom Island, Upper St. Anthony Falls Lock and Dam, St. Anthony Falls
Hours, Directions, and Contact Information
Last updated: February 28, 2020