Mill City Museum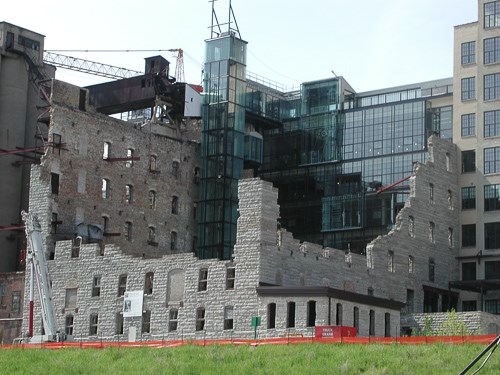 Introduction
The Mill City Museum is housed in one of the original flour mills built along the shores of the Mississippi in Minneapolis and interprets the once-thriving milling industry located here to exploit the power of St. Anthony Falls. The museum offers a variety of programs and exhibits that help visitors understand the history of the milling industry. The building's design gives the visitors a bird's eye view of the the Mississippi River and St. Anthony Falls that powered the original mills.
The museum offers walking tours to media shows, like the Flour Tower, to hands-on exhibits. Programs include the Baking Lab where visitors grind wheat, bake bread, perform experiments and pack food.
History
The building housed here was the Washburn A Mill, which opened in 1874. The mill exploded four years later due to bad ventilation, claiming 18 lives. The owners rebuilt and continued operations in 1880. It was the largest and most technologically advanced mill in the world. The mill could grind enough flour in one day to make 12 million loaves of bread.
The Minneapolis milling industry began to decline in the 1920s although the Washburn A Mill continued production until 1965. The building was heavily damaged by fire in 1991. The city cleaned up the wreckage, preserved some of the orginal architecture, and built the Mill City Museum inside the ruins. This unique structure gives visitors a sense of the historical significance of this place that changed the way food is produced and marketed.
The Washburn A Mill complex is listed on the National Register of Historic Places. The nomination papers have a great deal of information about this historic structure.
Activities
The many activities the museum has to offer range from walking tours to media shows like the Flour Tower to hands-on exhibits. Programs include the Baking Lab where visitors grind wheat, bake bread, perform experiments and pack up food. The Museum also offers tours of the Pillsbury A Mill across the river.
Family-Friendly, History & Culture, Museum, NPS Passport Program, Visitor Center
Hours, Directions, and Contact Information
704 South 2nd St., Mpls, MN 55401
GPS: 44.978636, -93.257594
Call the Mill City Museum office at (612) 341-7555 for current events and more information.
Nearby Sites
There are many sites and activities in the area along the river many of which describe the milling industry here. They include the Upper St. Anthony Lock and Visitor Center, the Stone Arch Bridge, Mill Ruins Park, Water Power Park and just upriver is First Bridge Park.
Last updated: February 28, 2020