Boom Island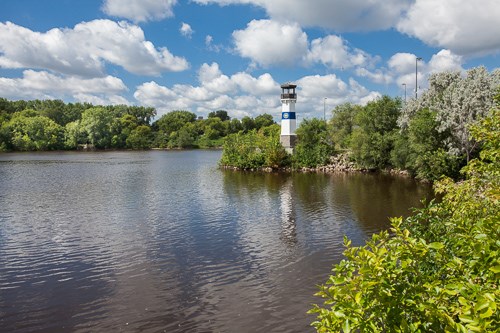 Introduction
The park can serve as a nice starting or ending point on a journey by foot or bike to the nearby Heritage Trail around historic Main Street and St. Anthony Falls or, going north up the river to connect with the Mississippi River Regional Corridor Trail that takes you to Anoka Riverfront Regional Park, Islands of Peace Park and, eventually, East and West Coon Rapids Regional Parks.

Situated above historic Main Street, Nicollet Island, and the St. Anthony Lock and Dam, Boom Island connects visitors to the majestic beauty of the Mississippi River. The park is highly accessible to persons with disabilities.
History
Boom Island was once used as a log sorting station for the logging industry. No longer an island due to filling in the back channel, the area is now use for recreation opportunities and a new residential community built along the Mississippi River.
Activities
Picnicking, biking, hiking, and boating.
Hours, Directions and Contact Information
Related Activities
Biking
,
Hiking & Walks
,
Boating & Canoeing
, and
Picnicking
.
Sites Nearby
Nicollet Island
,
Upper St. Anthony Falls Lock and Dam
and
St. Anthony National Historic District
. Also see the
St. Anthony Falls Heritage Trail
.
Last updated: November 22, 2019