Father Hennepin Bluffs Park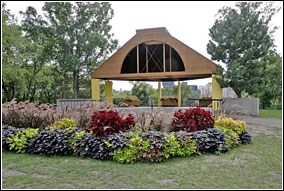 Introduction
The park consists of 5.5 acres and sits on a wooded bluff overlooking the Mississippi River. It is adjacent to Pillsbury Park and connected to the many parks on both sides of the river through an extensive trail system.
History
In 1680 Father Louis Hennepin, a Franciscan priest, led a French expedition down the Illinois River to its mouth, where they turned up the Mississippi River. They soon met a Dakota war party. Together they headed upriver to what is now St. Paul and then traveled overland to the Dakota villages on Mille Lacs Lake.
In July of that same year, however, Hennepin traveling south on the Mississippi River came upon the falls known to the Dakota as "Owahmenah" (falling water). He named the falls after his patron Saint Anthony of Padua, or St. Anthony. The park is the traditional location of an ancient portage route around the St. Anthony Falls, so Hennepin may have first observed the waterfall from this park that now bears his name.

Activities
Picnicking, walking and biking paths, scenic views to St. Anthony Falls and the Mississippi River.
Biking, Hiking & Walks, Picnicking
Hours, Directions, and Contact Information
Nearby Sites
Pillsbury Park, Stone Arch Bridge, St. Anthony Historic District, Mill Ruins Park, Nicollet Island Park, St. Anthony Falls, Upper St. Anthony Falls Lock and Dam
Last updated: February 28, 2020