St. Anthony Falls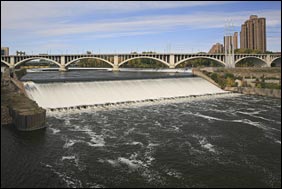 Overview
About 10,000 years ago, the great River Warren Falls reached the junction of the Mississippi and Minnesota Rivers. There it split into two separate falls, and the one that followed the Mississippi River course became St. Anthony Falls. Father Hennepin gave the falls its current name in 1680 being the first European to view the falls.
During the 1700s and 1800s, explorers and settlers visited the region to see the great spectacle caused by the falls. The falls became the main source of power for the many lumber and flour mills that were built around the area during this time period.
St. Anthony Falls suffered severe damage from 1860 to 1887 due to overuse and poor engineering of water power systems. The US Army Corps of Engineers made improvements to the falls in 1937 to help stabilize the falls.
See Chapter 6 of the Historic Resources Study for more information about the role St. Anthony Falls played in commercial development of the Midwest and the world.
Activities: Surrounding St. Anthony Falls is the St. Anthony Falls Historic District Area which offers the Heritage Trail, a self-guided two-mile loop with a visitor center. Tours the Upper St. Anthony Lock and Dam are available to scheduled groups (877-552-1416). The Stone Arch Bridge and Water Power Park provide the best views of the falls.
Contact Information: Call the US Army Corps of Engineers at (651) 333-5337.
Sites Nearby:
Mill Ruins Park
,
Mill City Museum
,
Stone Arch Bridge
, Pillsbury Park,
Father Hennepin Bluffs Park
,
First Bridge Park
,
St. Anthony Falls National Historic District
, Nicollet Island Park,
Boom Island Park
,
Grand Rounds Scenic Byway
,
Ard Godfrey House
,
Upper St. Anthony Falls Lock and Dam
Last updated: April 7, 2016