Ard Godfrey House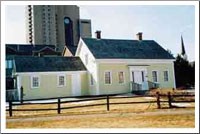 Introduction
The Woman's Club oversees the maintenance of the interior of the house, and its members also serve as volunteers and guides. The Club offers events and guided tours throughout the year. Visitors can admire the artifacts that characterize the time period when Ard Godfrey and his family still occupied this house.
History
Ard Godfrey came to Minneapolis in 1847 to supervise the first commercial dam and lumber mill at St. Anthony Falls. He built this 1 1/2-story wood frame house in 1848, where he and his family lived until 1853. After they moved out, various other families occupied the house until 1905 when it was sold to the Hennepin County Territorial Pioneers Association.
The Association moved the building to its current location on Chute Square in 1909 and gave it to the City of Minneapolis. It served as a museum of historical artifacts until 1943. As a gift to the city of Minneapolis in honor of its bicentennial, The Woman's Club of Minneapolis undertook the renovation of the Ard Godfrey House in 1976. The Club opened the house to the public in 1979 and remains as the oldest wood frame house in Minneapolis.
Activities
One of the events held at the site in May is Dandelion Day. Visitors learn how Harriet Godfrey first brought dandelion seeds to the St. Anthony Falls area in 1849. Also, visitors can find out how to make dandelion coffee and tea. The house proudly displays the Godfrey children's walnut cradle and the family's Chickering Rosewood piano
Hours, Directions and Contact Information
Related Activities
Sites Nearby
Boom Island, First Bridge, St. Anthony Falls, Upper St. Anthony Falls Lock and Dam, Mill Ruins Park, Mill City Museum, Stone Arch Bridge, Gold Medal Park, and Father Hennepin Bluffs Park.
Last updated: January 20, 2023