Maritime Heritage
2017 Grant Program and Application Information
Application Period Open for 2017 Maritime Heritage Grants

Approximately $2.5 million in National Maritime Heritage Grants for education or preservation projects will be available for 2017. Proposals for grants will be accepted from May 22 until September 1, 2017. Education projects can request $15,000-50,000 and preservation projects can request $50,000-200,000. Funding for Maritime Heritage Grants is competitive and requires a 1-to-1 match with non-Federal assets from non-Federal sources. Project funds are disbursed from the Maritime Heritage Program directly to State Historic Preservation Offices (SHPOs), who make subgrants to applicants.
Applicants must submit their complete application packages through the grants.gov website. Organizations not yet registered or familiar with grants.gov must first go to the following website and follow the instructions to register: http://www.grants.gov/web/grants/applicants/apply-for-grants.html. It will take up to two weeks for your account to be processed before you can submit your application. Do not wait until the last minute to register with grants.gov and the system for award management (SAM); application extensions will not be granted for incomplete grants.gov or SAM registration.
Application Materials
A complete application package will include both a completed National Maritime Heritage Program Grant Proposal and the SF-424 with appropriate attachments:
The NMHG Proposal/Application is available here:
The SF-424 is available only at www.grants.gov. Line-by-line instructions for filling out all parts of the SF-424 are included in the Appendix of the National Maritime Heritage Grants Manual. Please read and follow all instructions closely:
SF 424 - Application for Federal Assistance (required for all projects)

SF-424a - Non-Construction Budget (required for all projects)
SF-424b - Non-Construction Assurances (required for education projects)
SF-424c - Construction Budget (only necessary if using grant funds for preservation projects)
SF-424d - Construction Assurances (only necessary if using grant funds for preservation projects)
SF-LLL - Disclosure of Lobbying Activities (NMHG staff will contact you if this form is needed)
Form SF-424 and its attachments are required to be completed for all Federal grant programs, regardless of Federal agency. The NMHG application, with supporting documentation, is specific to this NPS program. When complete, it must be attached to and submitted with the SF-424. See instructions at www.grants.gov. Please note that all grant applications must be submitted through www.grants.gov. Other means of submittal will not be accepted.
PLEASE NOTE: Compliance with Section 106 of the National Historic Preservation Act (NHPA) for maritime grants is governed by a Programmatic Agreement (pdf) among the NPS, the Advisory Council on Historic Preservation (ACHP), and the National Council of State Historic Preservation Officers (NCSHPO). It is essential that you consult with your State Historic Preservation Officer (SHPO)/Tribal Historic Preservation Officer (THPO) early in the application process to determine whether it will be necessary to initiate Section 106 Compliance before submitting the application package. Although most projects requiring review under Section 106 will be preservation proposals, all applicants must consult with the SHPO about whether it will be necessary. For more information about Section 106, refer to the information under Grant requirements below, and pages 11-12 of the Proposal Guidelines and Grants Manual (pdf). The NPS and SHPOs/THPOs will assist applicants with Section 106 requirements if applicable. For projects in Hawaii, please also contact the Office of Hawaiian Affairs for a list of Native Hawaiian Organizations that may need to be notified of projects that could affect historic properties.
All projects must comply with the National Environmental Policy Act (NEPA). The NEPA process begins in Part 2 of the Proposal form, where all applicants will answer a series of questions about how or if their project may affect the environment. If a project is selected for funding, NEPA review will be concluded prior to funds being obligated. NMHG staff will advise applicants of any requirements after the application phase, as necessary.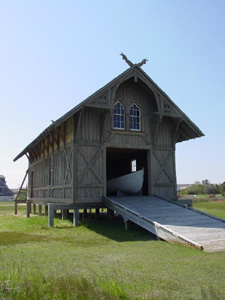 Chicamacomico Life-Saving Station.
Its restoration was performed with 1998 grant funds. Photograph from the
Chicamacomico Historical Association.

Assistance
Need help? We have prepared this series of brief guidance documents about the grant program to get you started. More detail is included in the Proposal Guidelines and Grant Manual. You will need Adobe Reader to view these documents. If you do not have Reader, you may download it for free. If, after review of these documents, you have further questions about eligibility, the application process, or other topics, please contact the National Maritime Heritage Grant Staff at 202-354-2266 or 202-354-2258 or by email at maritime_grants@nps.gov.
Grant Requirements

All projects receiving a grant will be required to adhere to certain federal laws and regulations (see the Laws and Regs). Please see the Proposal Guidelines and Grant Manual for more detailed information about the requirements. Below are links to the programs directly related to historic preservation, provided as easy reference for applicants planning preservation projects.

The Mayor Andrew Broaddus U.S. Coast Guard Inland Lifesaving Station received grant funds for preservation work in 1998. Louisville, Kentucky.
Photograph by Joe Schneid via Wikimedia Commons.