Plants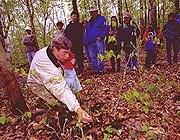 Even without the world's longest cave system, the land encompassing Mammoth Cave National Park would merit its National Park status due simply to its extraordinary density – and diversity – of plant life. While the acknowledged "showcase of vegetation" within the Park Service, Great Smoky Mountains National Park, has approximately 1,500 flowering species in its more than 500,000 acres, Mammoth Cave National Park supports more than 1,300 species in only one-tenth of that acreage.
Past botanical surveys in the park have found 25 species listed as Endangered, Threatened, or of Special Concern by Kentucky State Nature Preserves Commission. Mammoth Cave National Park is a vital refuge for the protection of plant communities and individual species in danger. This mosaic of habitats and diversity of forests types and grasslands is, unfortunately, just as attractive to a wide variety of introduced plants. Mammoth Cave National Park proactively works to control invasive alien species that compromise the integrity of its native plant communities.
The park is located within Hart, Edmonson, & Barren counties in south central Kentucky. To discover and learn about the tremendous diversity of flora, both native and invasive, within the area click
here
.


Last updated: July 7, 2018