Trees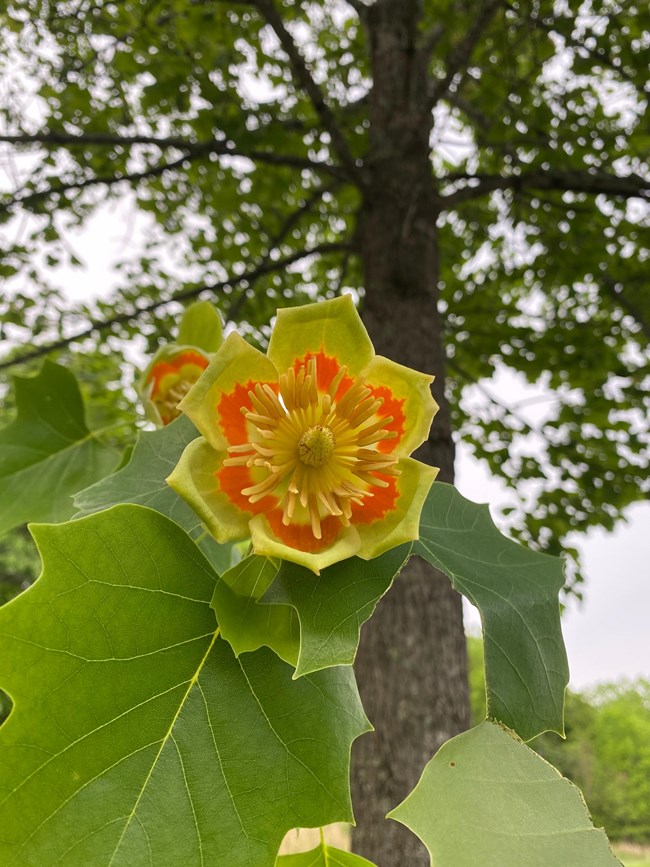 Mammoth Cave National Park is home to a great diversity of tree species. As you climb over ridges inhabited by drought hardy trees like cedars and pines and descend into wet valleys full of towering beeches and tulip poplars, you could encounter dozens of different tree species. Explore some of the most abundant tree species found in the park below.
white oak Quercus alba
While you may encounter many different species of oaks during your time in the park, one of the most abundant species is the white oak. These large trees can grow over 100 feet tall, with stout limbs branching from trunks up to four feet in diameter. The leaves of the white oak are four to eight inches long with a series of rounded lobes. While this tree is appreciated for its stout growth form, it is also highly important to wildlife species in the park. The acorns of the white oak provide an important food source for deer, wild turkeys, and squirrels, to name a few.
tulip poplar Liriodendron tulipifera
Holding the title of State Tree of Kentucky, the tulip poplar is commonly found within the park. Reaching heights near 200 feet tall, these trees made for excellent pipes during the saltpetre mining operations in the early 1800s. You can still see remnants of this old pipe system down inside of Mammoth Cave. On the surface, tulip poplars are easily recognized by their leaves that are nearly square in shape with 4 distinct tips. While these trees don't grow tulips and are not a member of the poplar family, they got their name from their orange flowers resembling tulips that decorate the branches in the month of May.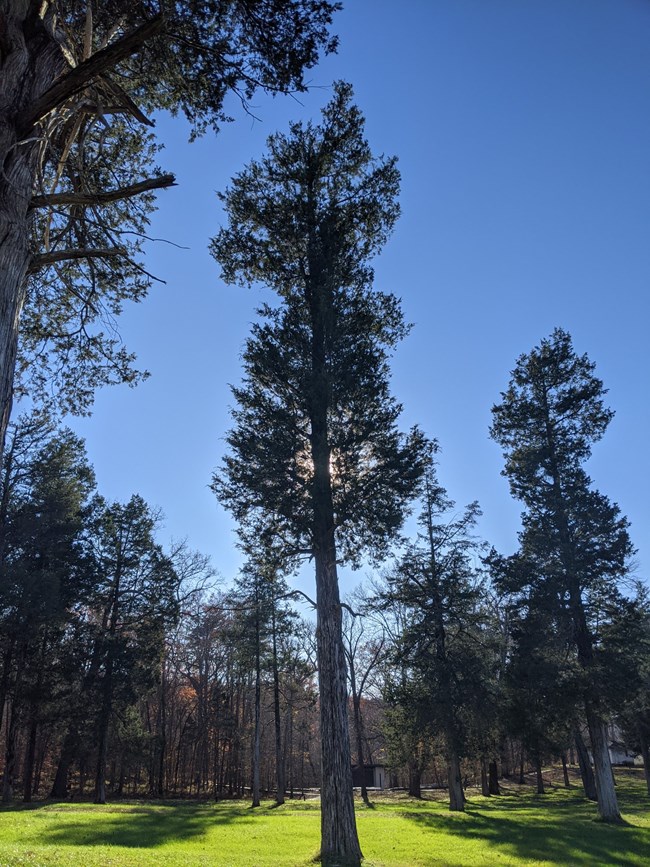 American beech Fagus grandiflolia
Characterized by smooth gray bark and spreading flattened branches, American beeches can be found on many trails around the park. The leaves grow alternate from one another on the branch, displaying strong veins punctuated by sharp points on the leaf margin. These trees can be easily spotted in the fall as they are one of the last to lose their leaves. During the early days of November, as the browning leaves of oaks and maples decorate the forest floor, leaves of a brilliant golden hue make the presence of the American beech known throughout the park.
Eastern red cedar Juniperus virginiana
Mammoth Cave is also home to several evergreen species. The red cedar can be identified by its peeling bark and scale-like leaves. On younger plants or new branches, you might find stiff sharp-pointed needles. Red cedars prefer high sunlight area which makes them a good pioneer species, meaning they tend to thrive on land that has recently been cleared of other, taller, tree species. For that reason, you have a good chance of seeing cedars alongside the roads as you drive into the park.
A Second Growth Forest
Prior to the establishment of Mammoth Cave National Park, the landscape looked quite different. The forest cover seen today was once cleared for open fields and farmland around many homesteads. In the 1930's, in anticipation of a national park designation, the Civilian Conservation Corps came into the park and completed several public works projects, including planting over one million trees. These newly planted trees transformed the once open landscape to a second growth forest.
Last updated: November 10, 2021