Forests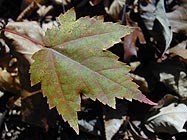 Forest/Savanna Ecosystem
Transitional between the drier Oak-Hickory Forest Region to the west and the mixed Mesophytic (medium moisture) Forest Region to the east and north. Mammoth Cave National Park contains portions of each which is home to more than 1200 species of flowering plants, including 84 species of trees, and the diversity within plant communities is high.
Oak-Hickory Forest/Savanna
On broad uplands in the park separated by large karst valleys south of Green River, oak-hickory forest covers relatively large areas of acid mesic-subxeric and calcareous sub-xeric habitat types which have been minimally disturbed. North of the river, sandstone capped uplands with similar habitats supporting oak-hickory forest are divided by narrower drainage channels. It is possible that portions of these uplands were oak savanna prior to settlement, especially areas adjacent to southerly slopes where fuels are more frequently combustible. For now, the goal for prescribed fire in oak-hickory forest is to reduce the invasion of fire intolerant species such as beech and maple.
Karst Valley Forest/Savanna/Prairie
Pre-settlement vegetation types in karst valleys south of Green River are unknown, and most of these large expanses of calcareous sub-xeric habitat were farmed prior to park establishment. Research on stable isotopes of carbon and oxygen are needed to determine presettlement vegetation patterns back through time. Until these data are acquired, the goal for prescribed fire in karst valleys will be limited to maintenance of isolated prairie patches, and small scale experiments in successional stands of cedar/pine.
Mesic Slope and Floodplain Forests
Moist ravines connected with the major river valleys support beech, maple, and tulip poplar in largely calcareous mesic habitats. On the floodplain alluvium, boxelder, sycamore, and river birch complement beech and maple. These habitats receive limited sunlight to dry fuels, and are watered by runoff in addition to their own catchment. Therefore the frequency of presettlement fire must have been very low. The same can be said for the supra-mesic habitats, and there are no plans to introduce fire in these areas. In some instances, portions of these very moist habitat types will be included within a prescribed fire unit to make the fire line safer and easier to manage, but this fire-intolerant vegetation will not be forced to burn.
Cedar-Oak Glades
In the driest limestone habitat types (calcareous xeric and sub-xeric), especially on south to west facing slopes, cedar-oak glades prevail. These are sites where eastern red cedar is not succesional, and where the inherent dryness of the site is an important factor in limiting growth of deciduous trees other than drought tolerant species such as chinkapin oak and blue ash. Based upon field observation of scars, fire is also a factor in limiting the invasion of more mesic species. However, given the vulnerability of eastern red cedar, fire intensity must be typically low, and the ability of cedars to grow right out of exposed limestone benches puts some distance between them and the meager fuel available.
Ridgetop Pine-Oak Stands
Located on the dry edges of sandstone cliffs facing south to west, acid xeric habitats support nearly pure but narrow stands of virginia pine and chestnut oak. Analogous to the cedar-oak glades, these sites are where virginia pine is not successional. Droughty conditions are clearly a factor in the maintenance of these stands, but the role of fire is not known. Observations in the field have failed to detect fire scars on either pines or oaks, so until the role of fire is better understood, these stands will remain low on the list of priorities.
Prairie Ecosystem
Prairie in the park is limited to small areas each no greater than 40 acres, and none can be considered actual remnants from pre-settlement times. Even so, these areas are rich in prairie grasses and forbs such as big bluestem, Indian grass, goldenrod, and tall coreopsis. They serve as refuges for species marginalized by conversion of former prairie on the sinkhole plain to agriculture, and by fire suppression within and beyond park boundaries.


Last updated: August 21, 2018