Things To Do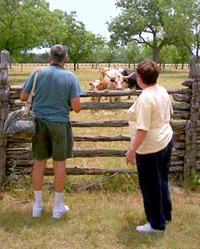 Whether you have 30 minutes or a full day, there are many opportunities in the park to learn about President Johnson. Here are a few ideas on how to spend your time. Keep in mind that 14 miles separate the two visitor areas of the park: Johnson City and the LBJ Ranch/LBJ State Park and Historic Site. Allow 20 minutes to travel from one area to the other.
If you have:
• 30 minutes
• 1 hour
• 2 hours
• More than 2 hours
1 Hour
Take a walk. Take the trail to the Johnson Settlement. The circular trail is slightly less than a mile round-trip. Along the way you will find an exhibit center which will introduce you to the days of the cattle drives and the log home of President Johnson's grandparents.
More than 2 hours
Visitors with more time to spend will get the most complete picture of President Johnson's heritage, life, and legacy. Start your trip in either park area and combine 2 or more of the activities listed above to find out why President Johnson felt such a close connection to the Texas Hill Country.


Last updated: November 13, 2019