Visiting the LBJ Ranch
President Johnson had a deep attachment for place and heritage. The LBJ Ranch was where he was born, lived, died, and was buried. After the President's death in 1973, Mrs. Johnson continued to live at the Ranch part time until her death in 2007.
Visitors are now able to tour the Ranch at their own pace in their private vehicle with the ability to stop at sites along the way such as the President's birthplace, Johnson family cemetery, and the Johnson's ranch house known as the Texas White House.
Self-Guided Ranch Tours
Obtain a free driving permit at the LBJ State Park and Historic Site Visitor Center in Stonewall, Texas. You will also receive a map indicating the tour route.

The address for the LBJ State Park and Historic Site Visitor Center is:

199 State Park Road 52
Stonewall, TX 78671
Hours of Operation
Seven days a week. Closed Thanksgiving, Christmas, and New Year's Day.
Driving Permits are given out starting at 9:00 a.m. No Permits are given out after 4:00 p.m.
Ranch Entrance Gate: open 9:00 a.m. to 4:30 p.m.
Ranch Exit Gate: Closes at 5:00 p.m.
Fees: Free
Driving permits are good only for the day of issue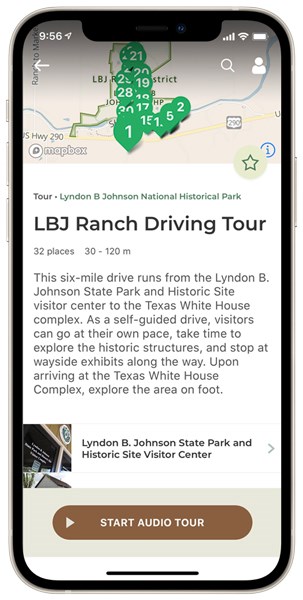 Audio Tour Narrates Your Drive!
Plan and enrich your visit with the official, free National Park Service app. Digitally explore the national park dedicated to the 36th president of the United States. Navigate to the Self-Guided Tours section, and select the LBJ Ranch Driving Tour to have audio as you drive the tour route. It's like having a park ranger in your pocket!
Download today!
Texas White House Tours
The President and Mrs. Johnson donated their private home to the National Park Service but retained lifetime rights to use the house. Following the death of Mrs. Johnson on July 11, 2007, preparations began to make the home available for public tours.
President Johnson's office (the west room) was opened to the public on the 100th anniversary of his birth, August 27, 2008. The living room and dining room were opened in June 2009. By December 2011 the entire first floor was opened to the public.

Texas White House Closure
On August 2, 2018 the Texas White House and adjacent Pool House were closed temporarily until further notice due to health and safety concerns arising from structural issues. As part of the self-guided Ranch Tour, you may park at the Airplane Hangar to view the exterior of theTexas White House. Read updates on the status and rehabilitation of these historic structures.
Last updated: July 30, 2022