Be the Future
For Kids
What adventure do you seek? National Parks in Alaska have lots of fun paths for kids to follow. Do you want to be a Junior Ranger, go on a hike, or see what other kids are doing? Pick an option to explore.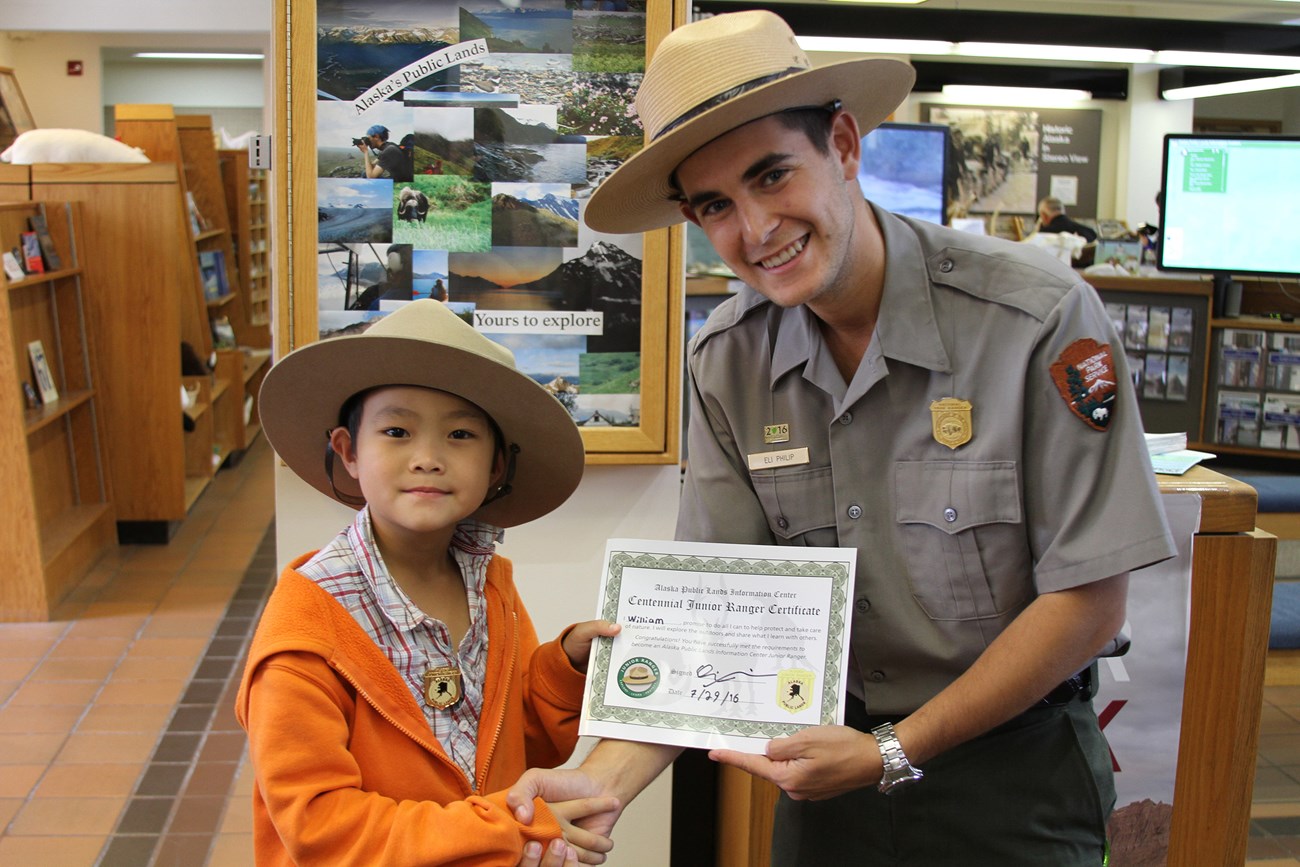 Alaska Jr. Rangers
Become a Junior Ranger in Alaska's National Parks. There are treasures to be found in the landscapes and stories of each park. Discover what is special and why these places are an important part of our nation's heritage and learn your role in preserving these treasures for the future.
Aleutian World War II National Historic Area
Bering Land Bridge National Preserve
Cape Krusenstern National Monument
Denali National Park and Preserve
Glacier Bay National Park and Preserve
Inupiat Heritage Center
Katmai National Park and Preserve
Kenai Fjords National Park
Klondike Gold Rush National Historical Park
Kobuk Valley National Park
Noatak National Preserve
Sitka National Historical Park
Wrangell-St. Elias National Park and Preserve
Find a national park near your home and
become a Jr. Ranger
there too!
Every Kid in a Park
Get your pass!
The great news about Alaska's National Parks is that you can visit them for free! If you and your family plan to visit Denali National Park and Preserve, be sure to
get your free pass.
Kids in Parks
Want to see
what kids are doing in parks across the country?
WebRangers
Become a WebRanger! Customize your own ranger station, hike trails, earn rewards, and play games! For kids of all ages. Visit
NPS WebRangers
.
Youth Service Opportunities
Become the next generation of national park ambassadors!
Youth Conservation Corps: Be a YCC in Alaska!
The United States Youth Conservation Corps (YCC) is a summer youth employment program that engages young people in meaningful work experiences on national parks, forests, wildlife refuges, and fish hatcheries while developing an ethic of environmental stewardship and civic responsibility.
Youth Conservation Corps website
Historically Black Colleges and Universities Initiative (HBCUI)
Intern in Alaska where African-American experience is woven through the history and landscape of our National Parks.
HBCUI website
Latino Heritage Internship Program
Intern in Alaska to gain skills and experience preserving our national heritage and parklands.
The National Park Service and Hispanic Access Foundation's Latino Heritage Internship Program is designed to train young people in the skills of cultural, historical, natural resource management. The program will raise awareness of our national parks and historic sites, their accessibility and the need for the Latino community's involvement in their preservation.
Latino Hertiage Internship Program website
Student Conservation Association Alaska
Alaska is an SCA "region" unto itself with more than 325 million acres of public land – more than half this nation's wilderness.
SCA Alaska website
Programs for Youth to Adults
Last updated: July 31, 2017