Boating and Fishing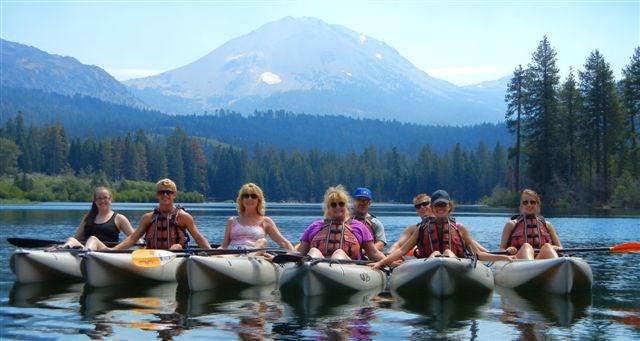 Numerous lakes provide excellent non-motorized boating opportunities in the park. The most popular boating lakes include Manzanita Lake, Butte Lake, Juniper Lake, and Summit Lake. Each of these lakes has one or more areas for boating access. Motorcraft rentals are available at Manzanita Lake (see below). Only non-power watercraft may be used on park lakes; engines of any type are not permitted. Boating is prohibited on Reflection, Emerald, Helen, and Boiling Springs Lake.

Watercraft Rental
Kayak, canoe, stand-up paddle board, and cataraft rentals are available in the Manzanita Lake Camper Store. Watercraft rentals are offered from 9 am to 30 minutes before sunset daily on a first-come, first-served basis in the summer only. View pricing at lassenlodging.com
Fishing
Whether fishing from shore with the kids, or fly-fishing Manzanita Lake from a float-tube, Lassen Volcanic National Park has plenty of opportunities to land the big one. Trout have not been stocked in the park since the 1980s, but a healthy population of these feisty fish still remain in many lakes and streams (though not in all of them). Manzanita Lake is famous for its large rainbow and brown trout, but keep in mind it is catch and release only and you must use single-hook, barbless, artificial lures only. Butte Lake and Horseshoe Lake both have healthy populations of trout.
A valid California fishing license is required to fish in the park. Check here for
California free fishing days.
The following areas are closed to all fishing during the periods indicated:
Manzanita Lake shore from the boat launch northwest to 150 feet west of the present inlet and 150 feet at the apex of a radius from the center of the inlet

Butte Lake boat launch

Juniper Lake boat launch

Manzanita Creek above Manzanita Lake

Manzanita Lake Special Regulations:
Catch and release only.
Artificial lures with a single barbless hook. No power bait.
Last updated: February 23, 2019