Thing to Do
Fish Manzanita Lake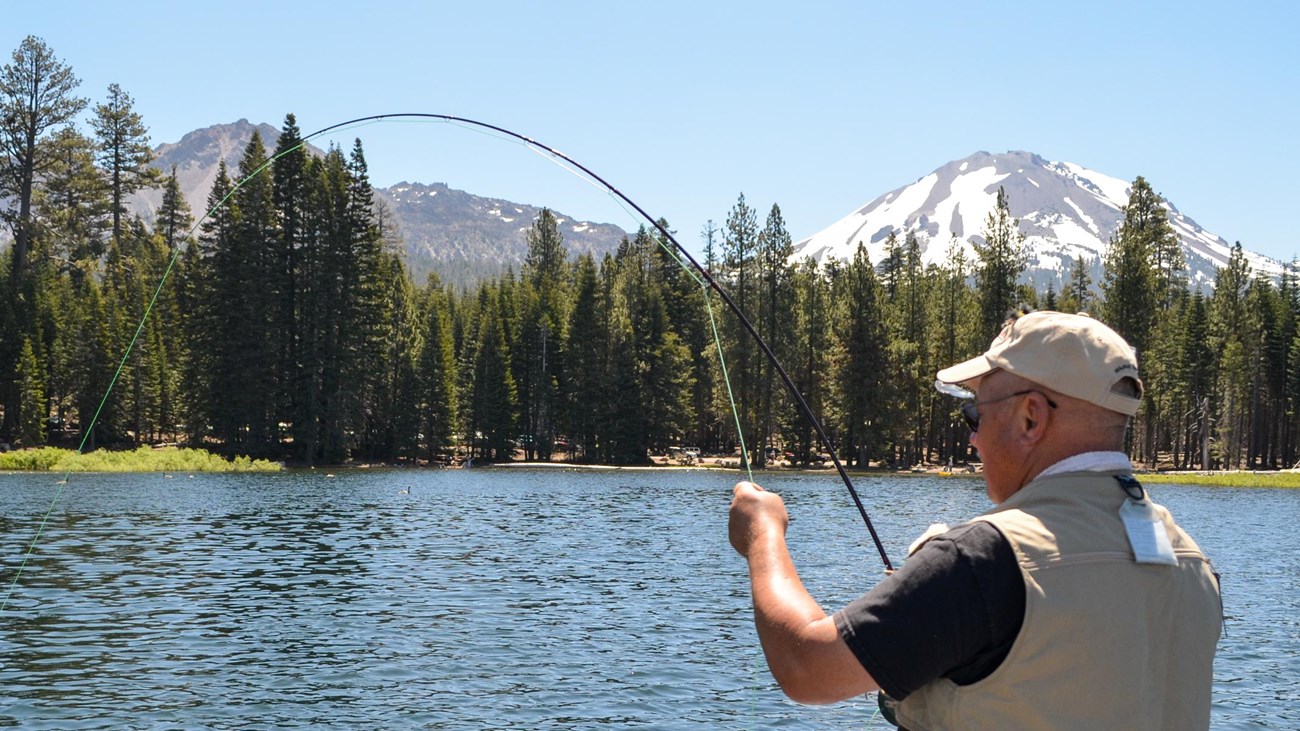 Manzanita Lake is the most popular fishing lake in Lassen Volcanic National Park and is excellent for both rod and reel and fly fishing. The lake holds a fair number of rainbow and brown trout and is rated as a blue-ribbon fly fishery by the state of California Department of Fish and Game. This high-elevation lake (5,850 feet) offers spectacular views of the towering Lassen Peak and Chaos Crags volcanoes. 

More than 300 years ago, a rock avalanche from Chaos Crags dammed Manzanita Creek creating this shallow lake. With a deepest point of only 30 feet, trout often cruise the lake's large, shallow flats in search of food. Due to the large number of visitors to the lake, the fish are not easily spooked by humans.
Regulations
To ensure the availabilty of fish for all visitors, fishing in this lake is limited to catch and release with a single, barbless hook. Only lures and flies are permitted; no living or non-living bait may be used. The lake is not stocked, however fish stocking did occur prior to the park's establishment in 1916. A California State fishing license is requred. Please review all fishing regulations prior to fishing in the park.
Boating
Kayaks, canoes, waders, and float tubes are commonly used. Only non-motorized boats are permitted (boats may not carry or use a motor). All watercraft must be launched from the boat launch to prevent damage to the shoreline wetlands. 
Rod and Reel
For fishing with a rod and reel it is recommended that clear six-pound test line or smaller be used. At times the lake is crystal clear, and fish can see heavier line. A light spinning reel and nimble rod are a good choice for casting long distances and a sporting fight.
Fly Fishing
Manzanita Lake is nationally known for its fly-fishing opportunities. For fly fishing, a six-weight rod is recommended with a length of 9 to 10.5 feet with a #5 or #6 leader. Due to the abundance of willows around the lake, fly fishing can be challanging. Waders are advised. Most flies will work, however a few popular flies that work throughout the park are:
Callibaetis (#16-18)                  

Damsel Nymph (#14)

Parachute Adams (#14-20)

Traditional Adams (#16-20)

Callibaetis Cripple (#14-16)

Carpenter Ant (#14-16)

Bouface brown (#10)

Monroe leech, olive (#10)
 Manzanita Lake Specific Flies:
Midge Patterns

Pupa Patterns,

Callibraetis Nymphs

Damselfly Nymphs

Stripping Nymphs,

Leech Patterns 

Wooly Buggers
Fly-fishing and rod and reel fishing from shore or non-motorized boat.
Pets are limited to the paved parking area. Learn more about visiting the park with a pet.

Additional pet regulations:
Pets must be on a leash less than six feet long at all times.
Pets can be left unattended in vehicles. However, if hazardous conditions exist, such as hot weather, owners can be cited for endangering an animal.
Pets can not be left unattended AND tied to an object, except in designated areas or under conditions which may be established by the superintendent.
Please clean up after your pet and take responsibility for its behavior.
Manzanita Lake is located in the northwest corner of Lassen Volcanic National Park.
There are no reservations for park entrance or for fishing.
Manzanzanita Lake is frozen or snow-covered in the winter season, approximately November through May. 
Time of Day
Day, Dawn, Dusk
Accessibility Information
ADA parking spaces are located next to the Manzanita Lake day use area and boat launch at Manzanita Lake. Access to the lake is on soft soil only. Service animals assisting a person with a disability everywhere visitors are permitted. A service animal, as described by the ADA (Americans with Disabilities Act) performs a specific task for a disabled person.
Last updated: August 30, 2023