News Release
Park Partner Wins NPS Wilderness Stewardship Award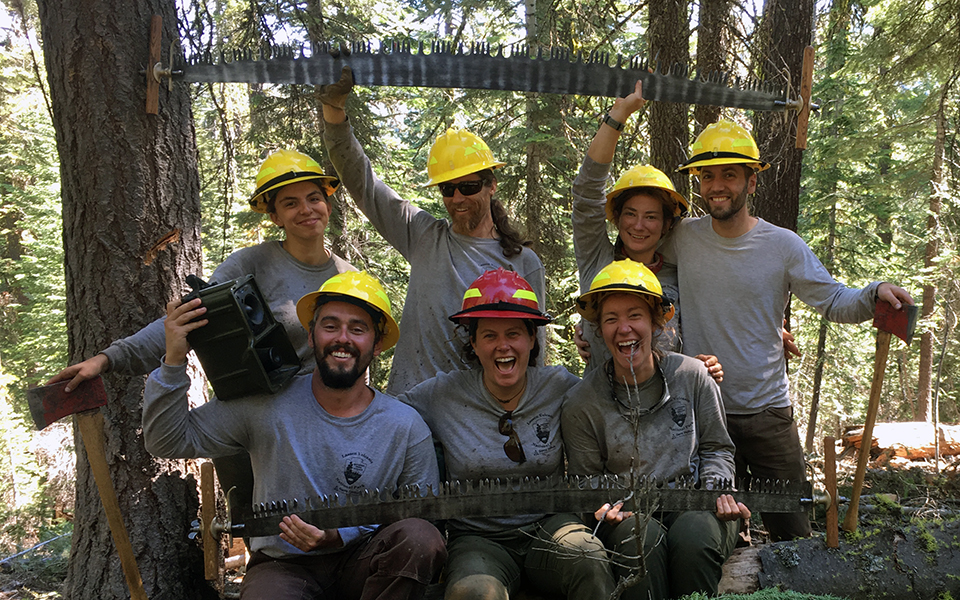 News Release Date:
August 24, 2020
Contact: Jim Richardson, (530) 595-6101
Mineral, CA – A partner of Lassen Volcanic National Park, Sierra Institute for Community and Environment, is the recipient of the National Park Service (NPS) Director's Wes Henry Excellence in Wilderness Stewardship Award, in the External Partner category for 2019.
"Sierra Institute crews have made significant improvements to forest health in Lassen Volcanic Wilderness," said Superintendent Jim Richardson. "We proudly celebrate our partner and their outstanding contributions to wilderness stewardship in the NPS." 
The NPS and National Park Foundation will honor Sierra Institute and other award winners at the National Park Service Awards online ceremony on August 25 at 4 pm EST at nationalparks.org/npsawards.

The Institute staffs a wilderness fuels module as part of the park's efforts to restore a low-to-moderate severity fire regime to the wilderness headwaters of the North Fork of the Feather River. This project addresses the accumulation of forest fuels due to long-term historic fire suppression. When combined with climate change and drought, these conditions increase the risk of high-severity fire, significant tree mortality, and damage to park resources and wilderness character. The initial reduction of hazardous forest fuels in 2019 increased ecological resiliency and provided a safer space for less suppressive fuel management responses.

The eight-person crew rearranged fuels and executed a combination of tree thinning and brush removal along park trails for future fire suppression and prescribed fire operations. The crew prepared a 6.7-mile treatment area perimeter on Flatiron Ridge in the Warner Valley Area using only traditional, non-motorized tools. To accomplish this, the crew underwent training to develop their crosscut saw skills and understanding of how stewardship efforts can contribute to wilderness management and the preservation of wilderness character.

The work of the Sierra Institute's wilderness fuels module will allow the return of fire's natural role in the ecological process in this section of Lassen Volcanic Wilderness for the first time in more than 100 years.

Learn more about the Sierra Institute at sierrainstitute.us, NPS Wilderness Stewardship Awards at nps.gov/aboutus/wildernessawards.htm, and the North Fork Feather Headwaters Forest Restoration Project at go.nps.gov/nfrh.
For more information about Lassen Volcanic National Park, please visit www.nps.gov/lavo; contact the park at (530) 595-4480 or e-mail us; find us on Facebook, Instagram, Twitter, and YouTube @LassenNPS.

About the National Park Service. More than 20,000 National Park Service employees care for America's 419 national parks and work with communities across the nation to help preserve local history and create close-to-home recreational opportunities. Learn more at www.nps.gov, and on Facebook, Instagram, Twitter, and YouTube @nationalparkservice. #FindYourPark
Last updated: August 25, 2020