Wilderness Stewardship Award
We have a profound, a fundamental need for areas of wilderness—a need that is not only recreational but spiritual, educational, scientific, essential to a true understanding of ourselves, our culture, our own natures, and our place in all Nature.

Howard Zahniser,
Wilderness Act author

The Wes Henry National Wilderness Stewardship Award recognizes outstanding contributions to wilderness stewardship by an individual or group. The 2013 recipient is: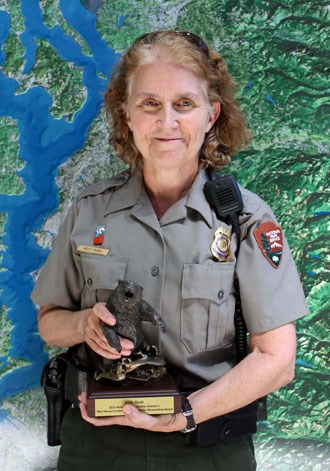 Kelly Bush, wilderness district ranger
North Cascades National Park, Washington

Bush has been a champion of wilderness values at North Cascades since before there was federally designated wilderness within the park. Beginning as a seasonal ranger in the 1980s and then as a wilderness patrol supervisor and wilderness district ranger, Bush has played an integral role in developing, shaping, and implementing the park's wilderness management policies and ethics. She was instrumental in the designation of the park's Stephen Mather Wilderness in 1988 and then had a significant role in writing the park's first wilderness management plan in 1989.
An effective collaborator, Bush has worked with subject matter experts on many interdisciplinary wilderness topics, including revegetation and plant propagation, wilderness character monitoring, and climbing. She has served as co-chair for the past seven years on North Cascade's Wilderness and Aviation Committee and as a field representative for three years on the NPS National Wilderness Leadership Council.
Bush's investment and commitment to growing wilderness stewardship is evident in her accomplishments. She has demonstrated, on multiple occasions, what it means to be passionate wilderness steward –asking difficult questions and grappling with wide-ranging and nuanced solutions.
Read about previous award recipients:
2012
2011
2010
---
Wes Henry dedicated his life to the preservation of wild lands. The former National Park Service Wilderness Program Manager was committed to finding innovative ways to educate others about the value of these special places. The
Wilderness Education and Interpretation Resource Notebook
is

a direct result of Henry's unwavering devotion to help connect people to their wilderness heritage.
---
Last updated: October 24, 2015