Volcanoes / Lava Flows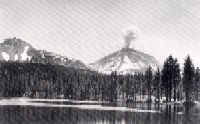 Every rock at Lassen originates from volcanoes. Lassen's volcanic domes are part of the most recently active Lassen Volcanic Center, which began to erupt about 825,000 years ago. Represented in the park are all four types of volcanoes found in the world--shield, composite, cinder cone, and plug dome. Unlike other Cascade volcanoes, Lassen's large plug dome and composite volcanoes are in close proximity to the smaller cinder cone volcanoes that surround the volcanic center.
The greater Lassen area has been volcanically active for about three millions years. Recently the region has seen eruptions from Cinder Cone (~350 years ago) and Lassen Peak (~100 years ago). While the area sleeps now, steam vents, boiling springs, and bubbling mudpots remain active--direct evidence that the volcanic center still smolders. No one can say when or where the next eruption will occur. We can only say that it will.
Learn more about the four types of volcanoes found in Lassen Volcanic National Park with the Lassen Volcanoes handout (pdf, 1.5MB)

Interested in Volcanoes? Join the Club!
Complete a series of activities to become a member of the Lassen Volcano Club. A special patch is available for purchase only by club members! Contact lavo_information@nps.gov for more information.
Studying and Monitoring Volcanic Activity
Fact Sheets by U.S. Geological Survey (USGS)
Last updated: May 4, 2019