Article
NPS Geodiversity Atlas—Lassen Volcanic National Park, California
Geodiversity refers to the full variety of natural geologic (rocks, minerals, sediments, fossils, landforms, and physical processes) and soil resources and processes that occur in the park. A product of the Geologic Resources Inventory, the NPS Geodiversity Atlas delivers information in support of education, Geoconservation, and integrated management of living (biotic) and non-living (abiotic) components of the ecosystem.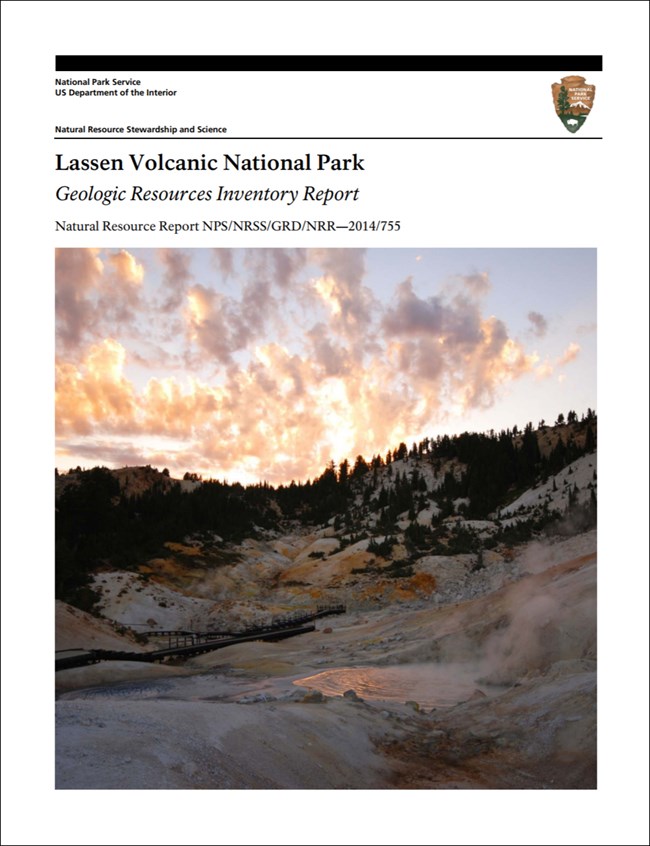 Geologic Setting
Lassen Peak is the southernmost active volcano in the Cascade Range. Before the 1980 eruption of Mount St. Helens in Washington, Lassen Peak was the most recent volcanic outburst in the contiguous 48 states. Following a series of eruptions starting in 1914, Lassen Peak erupted explosively on 22 May 1915. Pyroclastic flows, debris avalanches, debris flows, and associated flood waters devastated nearby areas, and volcanic ash fell across hundreds of miles to the east.

Lassen Peak and the other volcanoes of the Cascade Range are part of the Cascade volcanic arc, which extends from southern British Columbia to northern California. The volcanic arc is a result of oblique subduction of the Juan de Fuca plate (including the Explorer and Gorda subplates). Landward from the plunging tectonic plates, magma has worked its way to the surface and built a series of conspicuous volcanic landscapes, ranging in age from Miocene to Holocene in age. Subduction, and the resulting volcanoes and earthquakes, inspired the collective name "Ring of Fire" for the circle of volcanoes that surround the Pacific Ocean. Cascade arc volcanoes, including Lassen Peak, make up a segment of this ring.

The heat source (magma chamber) of active volcanism at the park yields remarkable hydrothermal features, including roaring fumaroles, mud pots, boiling pools, and thermal ground. These features are indicators of the ongoing potential for future volcanic eruptions in the Lassen volcanic center.
Geologic Features and Processes
[Site Under Development]
Volcanic Features
The park contains the four primary types of volcanoes (composite volcanoes, shield volcanoes, cinder cones, and lava domes), as well as lava flows, pyroclastic flows (density currents of volcanic gases, ash, and rock), and tephra (deposits of volcanic material ejected from a volcano). Before the eruption of Mount St. Helens in 1980, Lassen Peak was the only Cascade volcano to have erupted in the 20th century. The currently active volcanic center, the "Lassen volcanic center," of which Lassen Peak is a part, is within the park. This center is superimposed upon a volcanic platform created by regional volcanoes, which in addition to the volcanic center also occur in the park. Over its 825,000-year lifespan, the Lassen volcanic center has consisted of a collapsed caldera complex filled by the now much-eroded Brokeoff Volcano and the Lassen domefield. Three eruptions have occurred at the Lassen volcanic center in the last 1,050 years, the most recent in 1914-1917.
Glacial Landforms
Although Lassen is noted primarily for its volcanic terrain and associated hydrothermal features, volcanism and glaciation have gone hand in hand in the creation of the park's landscape. No glaciers exist in the park today, however large ice caps covered the mountainous terrain several times during ice ages of the recent geologic past. Glacial landforms such as moraines and outwash deposits "overprint" much of the volcanic foundation. The alteration of volcanic rocks by hydrothermal processes facilitated glacial erosion, and glacially eroded features such as U-shaped valleys, cirques, and arêtes occur throughout the park.

Glaciers advanced at least five times during the ice ages of the Pleistocene Epoch. Valley glaciers radiated out from the base and northeastern flank of Lassen Peak, and an ice cap was situated over the central plateau area of the park (Kane 1982; Turrin et al. 1998). Additionally, two small moraines near the base of Lassen Peak record early Holocene glacial activity, between about 8,000 and 12,000 years ago (Christiansen et al. 2002).

The main effects of Pleistocene glaciation in the park were erosional. Glaciers deepened major valleys, removed bedrock from large parts of the landscape, and created or enlarged hundreds of lake basins. Glaciers also polished and scratched striations and grooves on bedrock surfaces, and formed cirques and arêtes at high elevations, and roches moutonnées in valleys.

Glacial deposition also helped to shape the Lassen landscape. Glaciers widely distributed till (a mixture of clay, silt, sand, gravel, and boulders), developed moraines, and deposited erratics. Glacial meltwater deposited outwash (sand and gravel) beyond the margins of glacial ice.
Geology Field Notes
Students and teachers of college-level (or AP) introductory geology or earth science teaching courses will find that each park's Geologic Resource Inventory report includes the Geologic History, Geologic Setting, and Geologic Features & Processes for the park which provides a useful summary of their overall geologic story. See Maps and Reports, below.
Regional Geology
Lassen Volcanic is a part of the Cascade-Sierra Mountains Physiographic Province and shares its geologic history and some characteristic geologic formations with a region that extends well beyond park boundaries.
The
Geologic Resources Inventory
produces digital geologic maps and reports for more than 270
natural resource parks
. The products listed below are currently available for this park, check back often for updates as many maps, reports, and posters are still in progress.
Scoping summaries are records of scoping meetings where NPS staff and local geologists determined the park's geologic mapping plan and what content should be included in the report.
Digital geologic maps include files for viewing in GIS software, a guide to using the data, and a document with ancillary map information. Newer products also include data viewable in Google Earth and online map services.
Reports use the maps to discuss the park's setting and significance, notable geologic features and processes, geologic resource management issues, and geologic history.
Posters are a static view of the GIS data in PDF format. Newer posters include aerial imagery or shaded relief and other park information. They are also included with the reports.
Projects list basic information about the program and all products available for a park.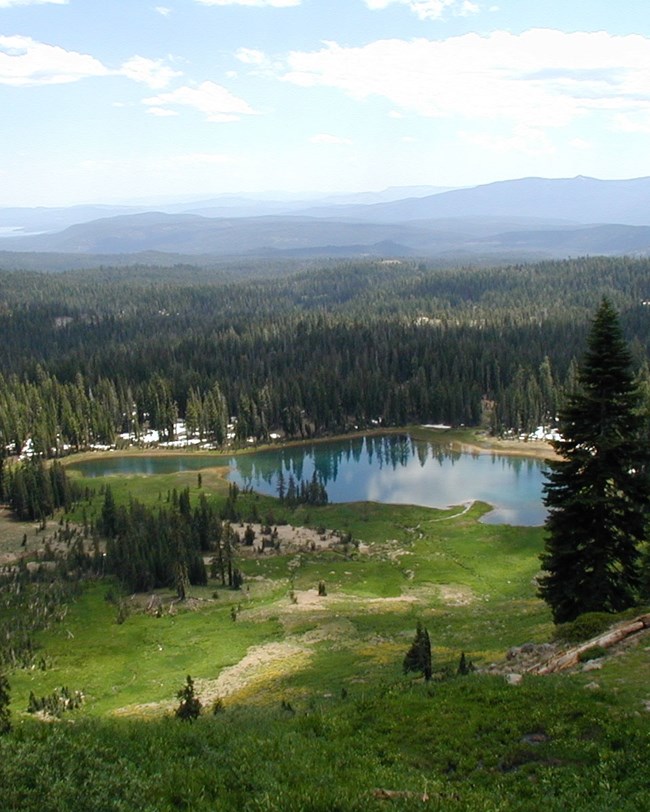 Related Links
Related Articles
Lassen Volcanic National Park
National Park Service Geodiversity Atlas
The servicewide Geodiversity Atlas provides information on geoheritage and geodiversity resources and values within the National Park System. This information supports science-based geoconservation and interpretation in the NPS, as well as STEM education in schools, museums, and field camps. The NPS Geologic Resources Division and many parks work with National and International geoconservation communities to ensure that NPS abiotic resources are managed using the highest standards and best practices available.

For more information on the NPS Geodiversity Atlas, contact us.
Last updated: February 10, 2022