Pets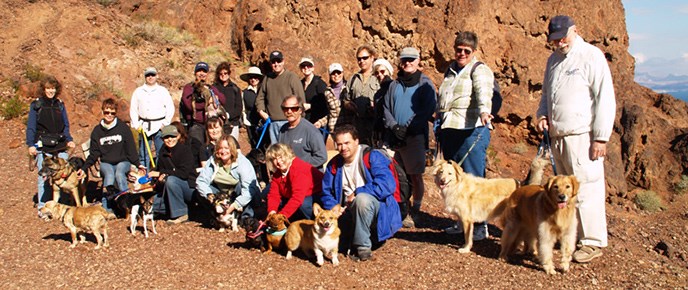 We are a pet-friendly park. Pets are allowed on all trails (though not in swim areas).

Please follow these simple rules:

1. Pets must be kept on a 6 foot or less leash while in the park.
Keeping your dog on a leash will help protect them from native desert dwellers like snakes, coyotes and even cactus spines.

Wildlife may be stressed by the scent of dogs. Research has shown that wild animals are less likely to visit areas where dogs have been.

Prevent your pet from becoming lost.
2. Please pick up after your pet. Always bring a bag with you and pack out your pet's waste. Pet waste:
is unsightly
carries diseases that can be spread to wild animals
is nutrient-rich and can add excess nutrients like nitrogen and phosphorous to the desert environment. These nutrients can cause an increase in harmful algae in lakes and rivers.
3. Never leave your dog unattended.
For your pet's safety, never leave it in a vehicle.
Barking dogs are considered a nuisance and owners must remove them from the campground.
4. No pets are allowed in designated swimming areas.

Please note that visiting in the summer heat can be dangerous for pets, so plan your visit during moderate weather. Heat stroke can affect pets, too - and remember to never leave pets in a car. Temperatures can soar to 130 degrees F (54 degrees C) in minutes. Your pet can quickly die of heat stroke in those conditions. During extreme heat, consider letting pets relax in the air conditiong at home instead.



Last updated: January 10, 2018