Public Use Cabins
Discover what it was like to live in the Lake Clark region in different era. Many people lived in this place to experience its flourishing resources and reside in peaceful solitude. Lake Clark's two public use cabins transport visitors back in time and offer quiet spaces for an opportunity to escape today's bustling society.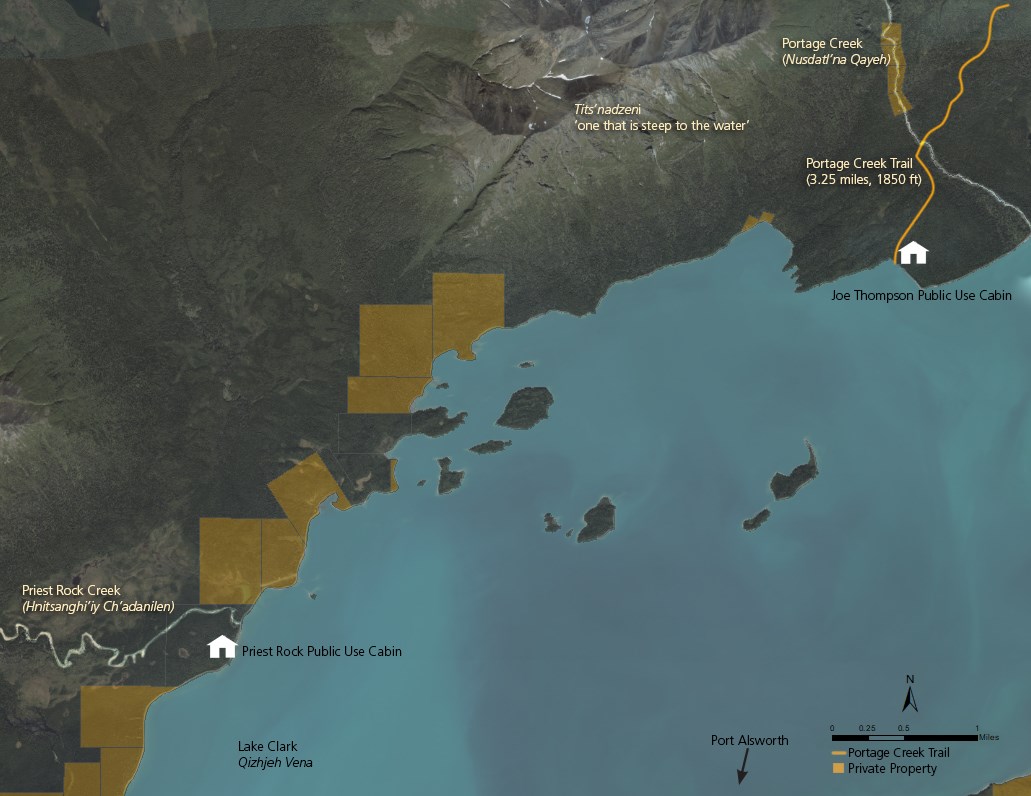 Staying At The Cabins
The two public use cabins are located on the northwest shores of Lake Clark. The
Priest Rock Cabin
is 8 miles from Port Alsworth and the
Joe Thompson Cabin
is 13 miles from Port Alsworth. Visitors can access the beach in front of the cabins via boat or float plane and water taxis may be available from Port Alsworth. Watercraft can land on the beach in front of the cabins as there are no mooring bouys or boat docks. Avoid tresspassing on private land by using the map on this page. Areas surrounding the public use cabins are public land unless denoted otherwise. Please avoid disturbing our neighbors.
Keep in mind that inclement weather can cause dangerous boating conditions on the lake. Pay close attention to weather advisories and wind forecasts before attempting to cross Lake Clark.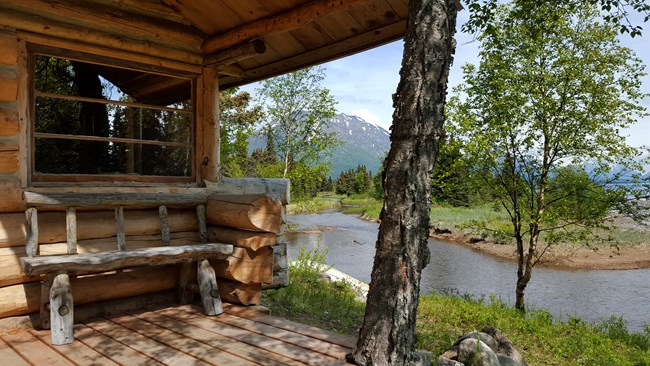 The Priest Rock Cabin gets its name from the thirty-five foot tall monolith on the lakeshore to the south of the cabin. The Dena'ina people refer to this rock as "
Hnitsanghi'iy
," 'the rock that stands alone.' To the Dena'ina people it remains a sacred and significant feature. The Priest Rock Cabin was originally built and lived in by long-time Alaskan Allen Woodward of Anchorage who was a summer resident of Lake Clark from about 1950 to the early 2000s. Allen Woodward is a veteran naval aviator from the Pacific Theater during World War II. He is a supporter of public lands and worked to ensure his property would be donated to the National Park Service.
In the late 1930s
Joe Thompson
moved from the commercial fisheries of Bristol Bay to Lake Clark to work at the gold placer mine along nearby Portage Creek. Thompson lived around Lake Clark from about 1937 to 1971 working as a woodsman, trapper, prospector and master craftsman. Thompson helped build the Alsworth family homestead and runway which are both are still in use today. Thompson built several cabins in the area and used this particular cabin in the 1960s to trap and hunt.
The Portage Creek Trail is adjacent to the cabin and partially follows the historic route to the location of a gold placer mining site. Today, the trail leads up Lach Mountain or Nusdatl'na Dghil'u ('Ghosts Mountain').
Know Before You Go
Facilities:
The cabins are rustic. The Priest Rock cabin accommodates up to six people and the Joe Thompson cabin accommodates up to three people. They are both equipped with a wood stove, table, chairs and a nearby outhouse. Sleeping accomodations include wooden bunks. There is no electricity or running water at the cabins. Fresh water is available in the lake but must be treated.
Getting There:
The cabin is 120 air miles from Anchorage. The Priest rock cabin is 8 miles from Port Alsworth and the Joe Thompson Cabin is 13 miles from Port Alsworth. Visitors must arrange their own transportation.
Transportation:
Cabins are only accessible by floatplane or boat; water taxis may be available from Port Alsworth. There are no mooring buoys at this location. For information, see our
Directions
page.
Cabin Rules and Other Considerations
Dogs are allowed at the cabin.
You are responsible for bringing your own cook stove, lighter, utensils, sleeping pads, bedding, toilet paper, drinking water, and/or means of treating drinking water.
Park regulations require all food, garbage, and other scented items be secured inside the cabin or provided bear resisent containers at all times because bears frequent this area. Food storage violations could result in immediate termination of the cabin reservation in addition to a fine.
Trash needs to be removed from the park. Pack out all trash and remaining food with you. There is no public trash collection in Port Alsworth.
Fishing and hunting activities are allowed while based at the cabin in accordance with all state and federal regulations.
Please respect private property. Many local residents live a subsistence way of life. Their land, camps, fishnets, traps, and equipment are private property. Native Corporation lands and private property exist in the area, they are not open to the public.
No smoking in the cabin. All cigarette butts must be removed with garbage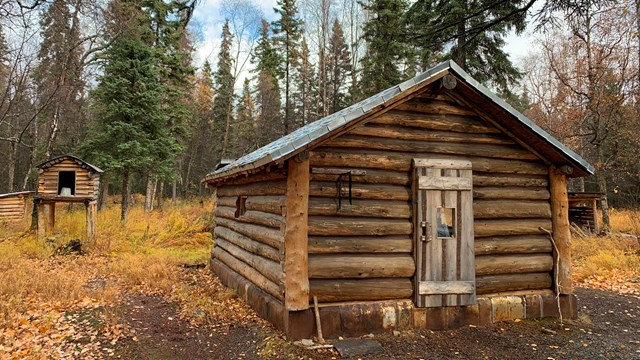 More about the Joe Thompson Cabin
Joe Thompson was essential in the development of Port Alsworth. This cabin is one of many he built in the Lake Clark region.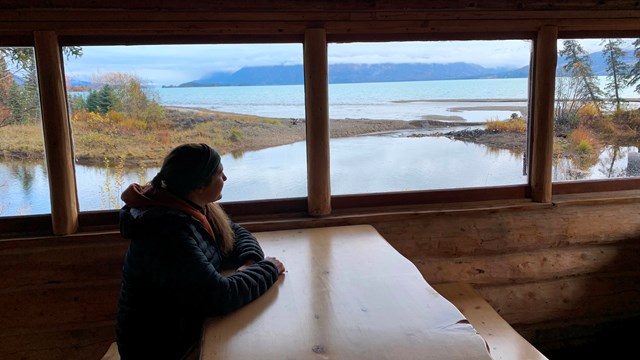 More about the Priest Rock Cabin
The cabin offers a place to experience a piece of Lake Clark history and opportunities for solitude.
Last updated: January 7, 2020