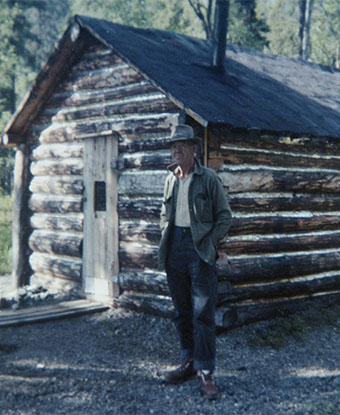 Significance:
Prospector, Trapper and Woodworker
Place of Birth:
North Dakota
Place of Death:
Minnesota
Joe Thompson was born in Harriet-Lien Township, Burleigh County, North Dakota in 1903. Thompson was one of nine children. His father was born in Iowa and his mother was born in Norway. He came to Lake Clark during the Great Depression in the late 1930s.
 
Building a Life in Lake Clark
Thompson was a woodsman, trapper, and prospector. He lived around Lake Clark from about 1937 to 1971. Prior to his time at Lake Clark, Thompson was a Bristol Bay commercial fisherman. During his early time in the Lake Clark region, he most likely lived and worked at Bowman's Camp, located near Portage Creek. From 1939 to 1941, Thompson trapped from a cabin near Lachbuna Lake with others who worked at a placer mine on Portage Creek. 

Thompson's craftmanship and skilled work played a significant role in the development of Lake Clark. He was involved in several building projects and land clearing efforts in the region, many which still exist to this day. With the arrival of the first sawmill in the area in 1934, development in the region greatly increased. In the 1940s and 1950s, Thompson helped locals Babe Alsworth and Charlie Denison with their sawmills. His skills were in steady demand as more people moved to the region and hoped to build. Thompson helped the Alsworth family in the growth of their homestead. In 1945, he cleared a 1,500 ft landing strip on the Alsworth's homestead with Mike Vandergrift; this was the first wheeled landing strip built on Lake Clark.
Thompson was a competent outdoorsman and skilled woodworker whose resourceful efforts aided those of his surrounding community. He was described by those who knew him as honest, serious, quiet and hard working. In the 1950s, he was hired by Jay Hammond to cut logs for his log home on the north side of Lake Clark. Thompson built the last of his several cabins on Lake Clark near Portage Creek in 1961. He left Lake Clark in 1971 and returned to North Dakota for the last time. In 1983 Thompson died at the age of 81 in Traverse County, Minnesota. 
Last updated: October 26, 2021