Day Hikes - Lake Clark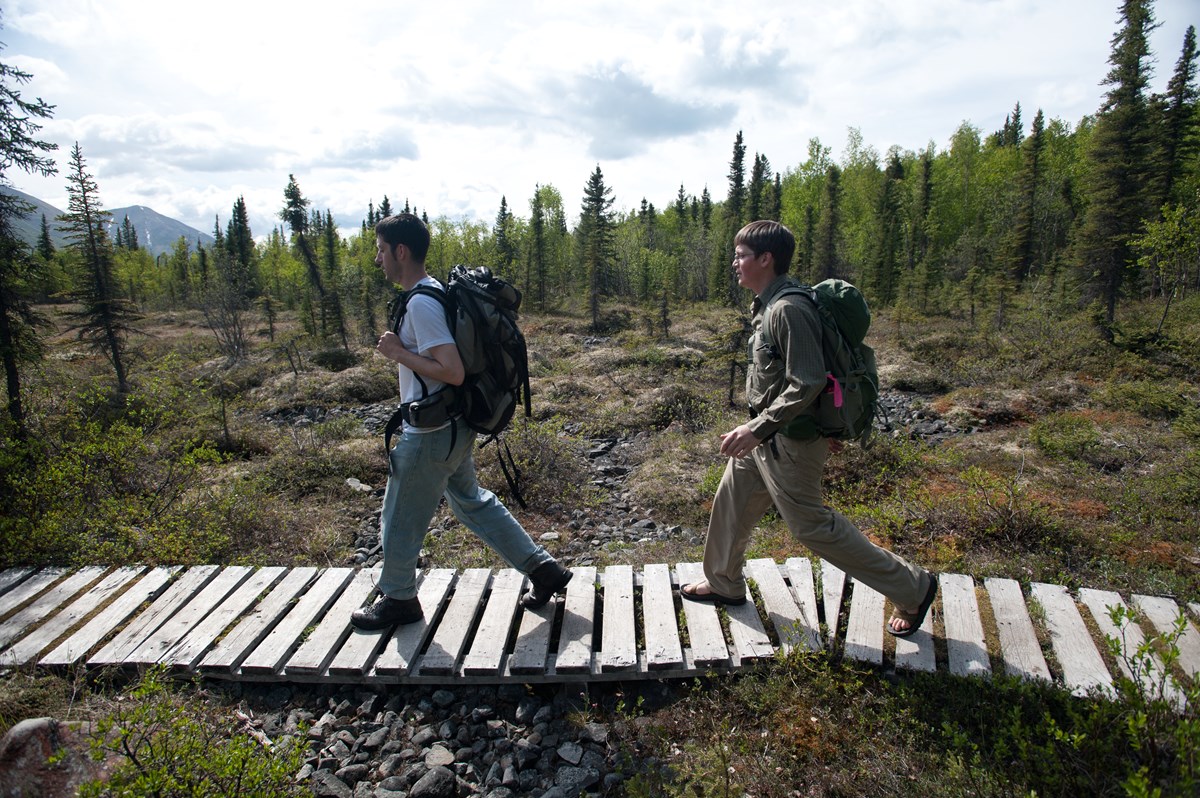 Tanalian Trails
While day hiking opportunities are endless in places that can be reached by plane or boat, there is only one maintained trail system in the park and preserve. The Tanalian Trails originate in Port Alsworth in the heart of the park. The trailhead is located near southern-most airstrip in town. Stop by the park visitor center in Port Alsworth for current trail conditions and a trail map, or download the Tanalian Trails map below.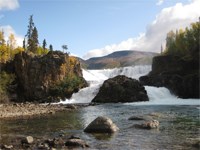 Tanalian Falls and Kontrashibuna Lake
Difficulty: Moderate
Meander through birch groves and up spruce studded hillsides to a stunning view of Lake Clark. Then round the bend and head down the gentle hill. On a summer day dwarf dogwood lines the trail, the sunlight dapples the forest floor, and the roar of the falls in your ears is deafening. Cold glacial waters fall over a 30 foot cliff of ancient lava. The mist falls coolly on your face and the view takes your breath away. Beyond the falls the trail enters Lake Clark's designated wilderness on its way to the serenity of Kontrashibuna Lake.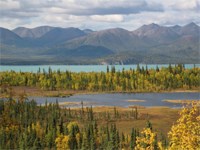 Beaver Pond Trail
Difficulty: Moderate
Any hike in the Tanalian Trail system can be made into a loop by returning on the Beaver Pond Trail. This trail meanders through quiet birch groves and past an old beaver pond where shorebirds nest in the early summer.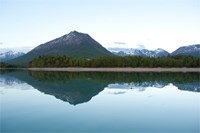 Tanalian Mountain
Difficulty: Rigorous
The trail up Tanalian Mountain is steep and rigorous with stunning panoramic views of Lake Clark and the surrounding mountains.
Other Day Hikes
A boat or plane ride can provide access to endless opportunities for trailless day hiking where the adventurous traveler can enjoy a climb up to alpine lakes or tundra meadows, a stroll across river gravel bars, or a challenging bushwhack up to a seldom-visited waterfall. Coastal beaches, high tundra, and lakeshores offer excellent hiking for the traveler seeking solitude and the challenge of finding their own route. Walking up to teetering rock on an unmaintained trail that begins behind Dick Proenneke's cabin is a popular hike for people visiting Upper Twin Lake.
When flying or boating to remote locations for day trips make sure you are prepared to spend the night if unexpected weather makes that necessary.


Last updated: November 16, 2017