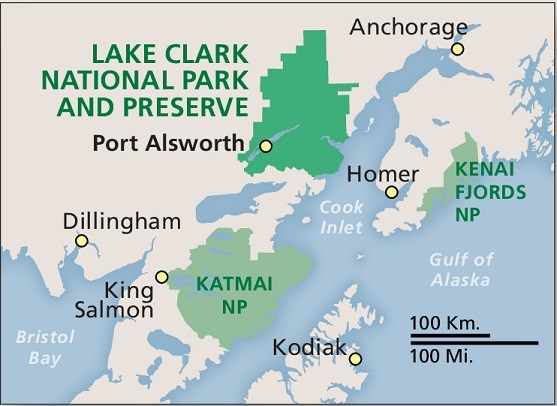 Lake Clark National Park and Preserve is located north of Katmai National Park, 65 air miles northwest of Homer, and about 120 air miles southwest of Anchorage.
Like many areas in Alaska, Lake Clark is not on the road system and travel takes place primarily by small plane. Fixed-wing aircraft are allowed to land on all suitable lakes, rivers, beaches, gravel bars, and open ground in both the park and preserve unless the area is closed or otherwise restricted.

The type of plane used will depend on what you want to do and where they want to go. The first step is usually deciding where you want to go within the park and preserve and then finding a plane or air taxi that has the appropriate equipment to take you there.

For summer travel, choosing an itinerary that utilizes either a plane with wheels or a plane with floats for water landings is important. Plan a trip that is conducive to one or the other as switching between the two types of landing gear can be time intensive and expensive. For instance, it would be unrealistic to go to both Crescent Lake and Silver Salmon in the same trip, even though on the map they look in close proximity. At Silver Salmon you must land on a beach and at Crescent you would need floats. There is no place to switch planes or landing gear in between these two locations.
Flying Safely
Lake Clark is rugged and remote. Planning ahead for flexibility and inclement weather is vital to a sucessful trip. Give yourself a few extra days on each side of your travel in the likely event of weather delays. In Alaska, we talk about the "circle of safety" where the passenger is a partner in ensuring a safe flight. Passengers should take an active role to ensure everyone's safety by getting familiar with the details of their trip. As a passenger, you should be willing to ask questions in a polite way if you feel uncomfortable about something or have additional questions. This idea can be intimidating, but if you are uncomfortable about something there is probably a reason. It is important to act on those feelings and voice any concerns. The pilot may have a simple answer that restores your comfort level. Asking a question may be all it takes to refocus on safety and avoid a mishap with the flight.