Visit Crescent Lake
Crescent Lake, in the heart of the Chigmit Mountains, offers outstanding fishing and bear viewing opportunities for visitors. Sockeye and silver salmon run up the Crescent River each summer. Brown and black bears travel the shoreline of the lake and river in search of their next meal. Crescent Lake is a spectacular and wild place. It is also the park's most visited destination and visitors should expect to see other people here. This page provides the information you need to plan your trip.

Getting to Crescent Lake
Flying to Crescent Lake
Crescent Lake is located in a roadless wilderness, so visitors arrive in small planes that land on the lake. There are no suitable beaches or runways for wheeled planes, so if visitors traveling in the summer will need a plane that operates on floats. Winter landings can take place on wheels, skis, or wheeled-skis depending on the snow and ice conditions. The fight from Anchorage, Kenai, or Homer is less than an hour.
Click the link above to see information for private pilots and to obtain a list of all the air taxis that are permitted to operate in the park. Prices depend on group size, type of airplane, length of flight, and where the flight originates. Contact each air taxi operator directly to determine availability and the cost for your trip.
Latitude/Longitude
The Ranger Station is located at approximately: 60°21'33.71"N 152°51'33.74"W
Getting Around Crescent Lake
There are no developed trails or roads at Crescent Lake. Most visitors explore the lake by motor boats or kayaks that are provided by their guide or lodge. While it is possible to walk at Crescent Lake, it is not recommended. Dense brush extends from steep mountain slopes to the lake's shoreline. Thus, the few brush-free areas along the shore that exist are travel corridors for bears. It can be very easy to startle a bear in this environment, which is a dangerous situation that should be avoided.
Things to Do at Crescent Lake
Sport Fishing
Crescent Lake is the most popular destination in the park for anglers. Sockeye / red salmon arrive during the month of July, while coho / silver salmon come in mid August through early September. Dolly varden, lake trout, and small numbers of Chinook / king salmon are also present providing ample excitement for adventurous anglers. Anglers must abide by all State of Alaska fishing regulations.
Brown Bear Viewing
Brown bears frequent the shoreline in search of fish during the salmon runs giving photographers in boats ample opportunity to capture the perfect photo. Due to the dense vegetation that makes walking on shore challenging and a bit dangerous, most bear viewing at Crescent Lake takes place from boats.
Lodging and Guided Trips
Several licensed commercial outfitters specialize in day-long and overnight sport fishing and bear viewing trips to Crescent Lake for travelers who prefer to visit bear country with a knowledgeable guide. Camping is not recommended at Crescent Lake due to the high number of bears in the area and the dense brush that extends to the lake's shoreline.
Click the link above to see a list of all the companies that are permitted to operate in the park. Contact each company directly to determine the cost for your trip.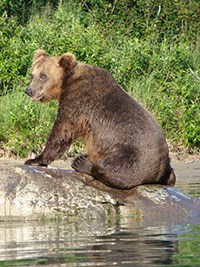 Staying Safe at Crescent Lake
Fishing In Bear Country
While fishing can be exciting at Crescent Lake, it offers a unique set of challenges and opportunities. You are responsible for your own safety and for keeping the bears wild. Become familiar with the responsibilities that come with fishing in bear country prior to your trip to Crescent Lake.
Staying Safe in Bear Country
It is likely that you will encounter bears during your visit to Crescent Lake. Visibility is low along the shoreline due to dense brush and the few areas that are clear are bear corridors. Learn how to stay safe in this setting.
In Addition to All Other Park Rules and Regulations
There are a few amenities and regulations at Crescent Lake designed for your safety.
Attend your food. If you have any food with you, you must keep it packed out of site and in your possession at all times or stored in an approved bear resistant food container.
Secure your fish in an approved bear-resistant container as soon as you catch it. They are available from your guide.
State of Alaska Fishing Regulations Anglers are required to abide by all state of Alaska fishing regulations.
View Photos of Crescent Lake
Last updated: September 2, 2016